Modern Family Stars Demand More Money!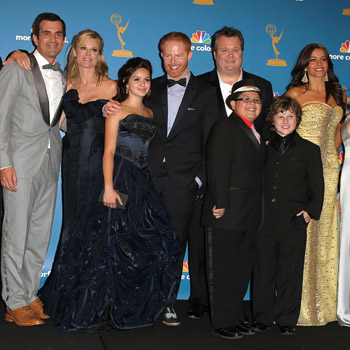 By Alexis Tereszcuk - Radar Entertainment Editor
Modern Family greed or unfair pay practices?
The stars from the hit TV show have filed a lawsuit against 20th Century Fox TV demanding that their contracts be tossed out because they want more money than they're already earning.
Julie Bowen, Ty Burrell, Jesse Tyler Ferguson, Eric Stonestreet and Sofia Vergara claimed that their contracts violate the "7 Year Law" that bars personal service contracts with a duration longer than seven years and the cast wants the contracts declared null and void.
Article continues below advertisement
The adult cast members on Modern Family make an exorbitant amount of money and Fox recently offered to up their salaries to $150,000 per episode plus a $50,000 per episode bonus for season 4, $200,000 per episode for season 5, $225,000 for season 6, and up to $325,000 for an anticipated season 9, according to the Hollywood Reporter.
The actors were paid about $65,000 per episode for the 22-episode third season, but "the cast is asking for much more, including more than double the offered salary if the show goes 8 or 9 seasons, as expected."
Ed O'Neill, who makes a reported $105,00 per episode is not listed in the lawsuit but THR says that he is standing by his cast mates.
"A source close to the negotiations tells THR that O'Neill has decided to join his cast members as a plaintiff in the lawsuit. O'Neill has his own salary beef with 20th TV but he is paid on a different track and was thus not involved in the original plans to sue. Yet O'Neill is said to want to join the suit out of solidarity with his cast, and once he is officially signed as a client by litigator McFarland, the suit will be amended to add O'Neill, according to sources."