Pucker Up! Sofia Vergara And Nick Loeb's Very Passionate PDA!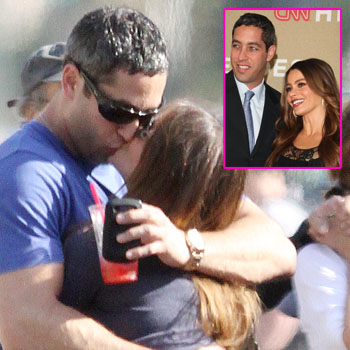 Sofia Vergara and her businessman fiance indulged in a VERY public make-out session on Sunday!
The 40-year-old Modern Family star was spotted openly smooching and fooling around with lover Nick Loeb in Beverly Hills - and didn't care who knew about it!
The couple literally could not keep their hands off each other as they laughed and joked and at one point the saucy actress plopped herself down on Nick's lap.
Article continues below advertisement
The totally loved-up pair has been dating since 2010 and their relationship has always been fairly rocky…but by the look of things they are sizzling right now!
Sofia, whose character in Modern Family is pregnant, looked hot in clingy black leggings, a blue sweater and chunky boots.
And Nick, 37, looked like he was loving every minute of the afternoon PDA.
Sofia and Nick became engaged last July after he presented her with a whopper of a ring.