Exclusive
Ariel Winter's Mom Says There Is No Reason Why Her Father Can't Take Care Of Her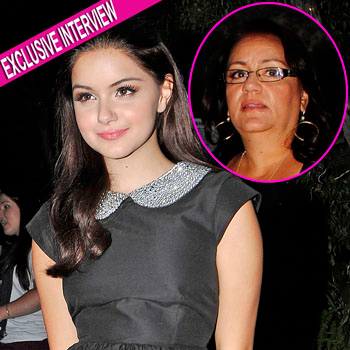 Article continues below advertisement
DOCMUMENTS: Ariel Winter's Mom Files Objection To Guardianship
"As for why there are claims otherwise, well, all I can say is that Ariel is a rebellious 14-year-old teenager. I love my daughter and want her back. I'm very concerned for her safety and well-being."
In Ariel's older sister, Shanelle Gray's petition for temporary guardianship of the actress, she states, "Glenn Workman, father of the minor is estranged and incapable of properly caring for minor."
Shanelle was subsequently granted temporary guardianship of Ariel on October 3, amid claims that her mom physically and emotionally abused her.
As RadarOnline.com previously reported, Chris filed a police report on October 6, 2012, alleging that she had found her daughter in bed with her 18-year-old boyfriend on September 24.
Ariel's older boyfriend "is the main cause of all this, period. I have serious concerns about my 14-year-old daughter dating an 18-year-old man. What mother wouldn't be concerned about that? Ariel is rebelling because of my concerns," her mom asserts.
Article continues below advertisement
Shanelle claimed in court documents that their mother made Ariel's life a living hell.
"Ariel Workman has been the victim of on-going physical abuse (slapping, hitting, pushing), and emotional abuse (vile name calling, personal insults about minor and minor's weight, attempts to 'sexualize' minor, deprivation of food, etc) for an extended period of time by the minor's mother, Chris Workman," the documents state.
However, Chris filed a sworn declaration on Friday in Los Angeles and vehemently denies physically or emotionally abusing Ariel.
The actress' mother also has concerns about her older daughter Shanelle's motivations for becoming Ariel's guardian.
"I believe that Shanelle is using Ariel's Disney connections for her own daughter's benefit as they too are in show business," the court docs state.
Chris also has concerns about Shanelle's capability to deal with Ariel's severe food allergies and contends that "the proposed guardian, Shanelle Gray, is Ariel's older sister who has little to no relationship with her. Shanelle and I have an estranged relationship and as such, Shanelle has not been involved in my or Ariel's live over the past 14 years. Over the past 14 years, I have seen Shanelle no more than 29 times and Ariel has seen Shanelle no more than 14 times, if that."
Article continues below advertisement