Exclusive
Modern Family Star Ariel Winter's Mom Could Face Legal Problems Over Police Report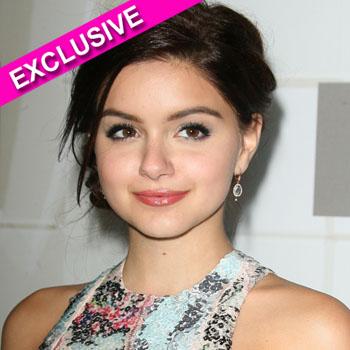 By Jen Heger - RadarOnline.com Assistant Managing Editor
The mother of Modern Family star Ariel Winter could be in trouble with police if they determine she filed a false police report three days after losing custody of her daughter, RadarOnline.com is reporting exclusively. What's more, police are planning to question Ariel's mom about the timing of the report.
Chrisoula Workman filed a police report that she found her daughter in bed with her 18-year-old boyfriend just days after a court awarded temporary custody of Ariel to her older sister Shanelle Gray. That timing has raised suspicions and a source close to the family drama tells RadarOnline.com that the star's mother could face legal consequences if it's determined that she filed a false police report.
Article continues below advertisement
"This police report was filed three days after she lost custody of Ariel to her older daughter," the source told RadarOnline.com. "It's a misdemeanor in California to file a false police report, and cops are now looking at Chrisoula's initial complaint, and are going to be paying her a visit in the very near future to ask her about the timing of filing the police report.
"Cops were unaware that Chris had lost custody of Ariel at the time, and that certainly changes the course of the investigation."
Meanwhile, the family and legal drama is taking a big toll on Ariel.
"What is being lost in all of this is the utter hell that Ariel is going through right now," the source said. "She just wants to be very, very far away from her mother. Ariel just wishes her mother wouldn't fight the guardianship so they could move forward."
As RadarOnline.com previously reported, Workman filed the police report on October 6, 2012, alleging that she had discovered the young lovers together on September 24. Judge Michael Levane granted temporary custody of the actress to her sister on October 3.
Article continues below advertisement
Gray claimed in court documents that their mother made Ariel's life a living hell.
EXCLUSIVE DOCUMENTS: Read The Abuse Allegations Made By Ariel Winter Against Her Mother
"Ariel Workman has been the victim of on-going physical abuse (slapping, hitting, pushing), and emotional abuse (vile name calling, personal insults about minor and minor's weight, attempts to 'sexualize' minor, deprivation of food, etc) for an extended period of time by the minor's mother, Chris Workman. Glenn Workman, father of minor is estranged and incapable of properly caring for minor," the documents state.
The judge set a new court date for November 20 and also ordered that "the Mother is not have any contact with the Minor pending further Court order."
Questions about the timing of the police report are likely to be brought up in court, says the source. "The judge will almost certainly ask Chris about the delay in going to cops about claims she found her daughter in bed with an older man," the source said. "Chris is going to have a lot of very tough questions to answer."
Article continues below advertisement