Exclusive
Child Protective Services Recommends Ariel Winter's Sister Retains Guardianship Of Her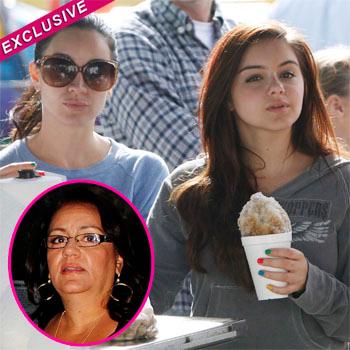 By Jen Heger - Radar Assistant Managing Editor
Child Protective Services has formally recommended that Modern Family star, Ariel Winter's sister, Shanelle Gray retain guardianship of the actress and that her mother, Chrisoula Workman not be allowed to have any unsupervised contact with her daughter, RadarOnline.com is exclusively reporting.
"Social workers from the Los Angeles County Department of Children and Family Services conducted extensive interviews with Ariel, her mother and her sister," a source close to the situation tells Radar. "At the conclusion of those exhaustive interviews and based on other evidence that social workers had, they have written a formal report for the judge handling the guardianship petition, and DCFS officials agree that her sister should remain as Ariel's guardian.
Article continues below advertisement
"The report will have substantial influence on the judge and officials from the department will be in court on Tuesday for the proceedings, and will testify about their report if called to do so. There are major concerns with the emotional abuse that Ariel's mother allegedly inflicted on her."
As previously reported, Ariel is asking a judge to grant her request that Shanelle be appointed her permanent legal guardian.
The young actress was placed in her sister's care on October 3 amid further claims that her mom was physically and emotionally abusive to her.
"Ariel Workman has been the victim of on-going physical abuse (slapping, hitting, pushing) and emotional abuse (vile name calling, personal insults about minor and minor's weight, attempts to 'sexualize' minor, deprivation of food, etc) for an extended period of time by the minor's mother, Chris Workman," the custody documents state.
Article continues below advertisement
However, Chrisoula denied the claims in an exclusive interview with RadarOnline.com.
"There are absolutely no grounds to say that Ariel's father, and my husband, Glenn is incapable of caring for our daughter," she said. "There are no issues that would render him incapable of being Ariel's father.
"As for why there are claims otherwise, well, all I can say is that Ariel is a rebellious 14-year-old teenager," she said. "I love my daughter and want her back. I'm very concerned for her safety and well-being."