Modern Family Star Ariel Winter's Sister Will Retain Guardianship, Pending Next Court Date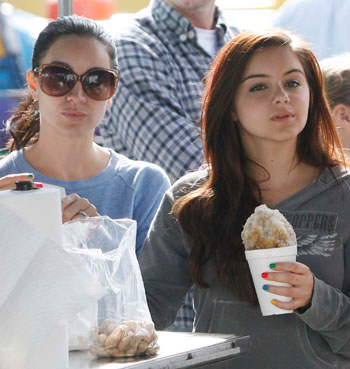 Article continues below advertisement
As RadarOnline.com exclusively reported on Monday that Child Protective Services had formally recommended the move and advised that Workman not be allowed to have any unsupervised contact with her teenage daughter.
"Social workers from the Los Angeles County Department of Children and Family Services conducted extensive interviews with Ariel, her mother and her sister," a source close to the situation told RadarOnline.com. "At the conclusion of those exhaustive interviews and based on other evidence that social workers had, they have written a formal report for the judge handling the guardianship petition, and DCFS officials agree that her sister should remain as Ariel's guardian."
The insider went on to reveal that the stage mom has seemed "insanely jealous" of her young daughter's acting success."
The young actress was placed in her sister's care on October 3 amid further claims that her mom was abusive to her.
"Ariel Workman has been the victim of on-going physical abuse (slapping, hitting, pushing) and emotional abuse (vile name calling, personal insults about minor and minor's weight, attempts to 'sexualize' minor, deprivation of food, etc) for an extended period of time by the minor's mother, Chris Workman," custody documents state.
Article continues below advertisement
However, Chrisoula denied the claims in an exclusive interview with RadarOnline.com.
"There are absolutely no grounds to say that Ariel's father, and my husband, Glenn is incapable of caring for our daughter," she said. "There are no issues that would render him incapable of being Ariel's father."
Workman had denied all accusations of abuse and filed more than two dozen declarations from friends, acquaintances, stylists and others saying they never witnessed any abuse. Winter's father, Glenn Workman, also reportedly filed an objection to the guardianship late Monday, stating he wants a better relationship with his daughter and would be willing to care for her.