Exclusive
In It For The Love Not Money! Ariel Winter's Guardian Sister Does Not Want Any Of The Actress' Fortune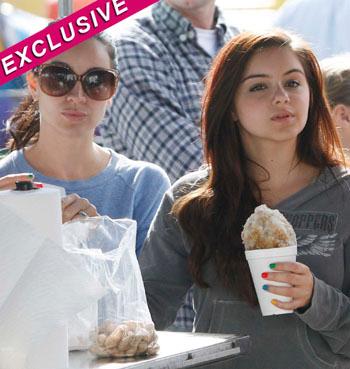 By Jen Heger - RadarOnline.com Assistant Managing Editor
Ariel Winter's older sister, Shanelle Gray, who has temporary guardianship of the 14-year-old Modern Family star, is telling friends that she doesn't want any of her sibling's money, despite a report that she filed for bankruptcy nearly 12 years ago, RadarOnline.com is exclusively reporting.
"Ariel asked her sister to become her guardian, this wasn't something that Shanelle sought out," a source close to the situation tells RadarOnline.com. "Shanelle agreed to become her guardian, but has made it clear that she absolutely doesn't want any of Ariel's money. In fact, Shanelle has formally asked the judge handling the proceedings to block her from having any access to Ariel's bank accounts. For Shanelle this has nothing to do with money, she has only stepped in because Ariel asked her to.
Article continues below advertisement
"Shanelle did indeed file for bankruptcy nearly 12 years ago, she was in her early 20s and had incurred some debt. However, she took responsibility for it and that has absolutely no bearing whatsoever in the guardianship proceedings.
"For anyone to say that Shanelle is trying to make a money grab from Ariel is ridiculous, they obviously don't know the facts of the situation. The court has strict oversight into Ariel's personal and financial affairs because she is a minor, so it would be impossible for Shanelle to do that, even if she wanted to."
As previously reported, Winter will stay in the legal care of Gray pending the battling family's next court date, which is scheduled for December 12.
L.A. County Superior Court Judge Michael Levanas made the decision to continue to grant temporary guardianship to Gray after considering court documents alleging physical and emotional abuse at the hands of Winter's mother, Chrisoula Workman.
Child Protective Services had formally recommended the move and advised that Workman not be allowed to have any unsupervised contact with her teenage daughter.