Exclusive
So Long, Matt? Ann Curry Begs NBC To Let Her Out Of Her Contract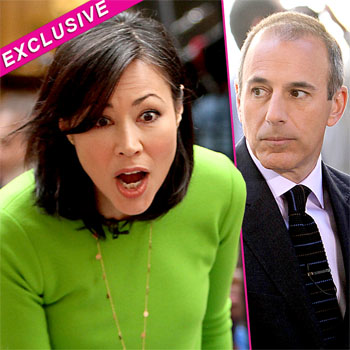 By Jen Heger - Radar Assistant Managing Editor
Former TODAY co-anchor Ann Curry has formally asked her NBC bosses to let her out of her contract with the Peacock network so she can formally accept a position at CNN, where her old boss, Jeff Zucker, will officially take over the fledgling news channel in February, RadarOnline.com is exclusively reporting.
"Ann wants out of her contract, big time. She has formally asked her attorney to explore exit options from the network. However, NBC bosses have indicated they are unwilling to release Ann from the contract. If Ann were to just quit, there is a non-compete clause, which would prohibit her from working for another news outlet for two years," a source close to the situation exclusively tells Radar.
Article continues below advertisement
"Ann's lawyer feels that there is a very strong case to be made that NBC has breached terms of the deal because Curry was demoted from TODAY. Furthermore, Ann has basically been sequestered from appearing on the network. Yes, she has been doing some work that has been assigned to her, but it hasn't been steady," the insider added.
As RadarOnline.com previously reported, Zucker, TODAY's former executive producer and one-time NBC Universal head, has his eye on installing Curry in CNN's coveted 8 p.m. time slot, which is currently occupied by Anderson Cooper.
Since Curry's disastrous departure from TODAY this past summer, ratings on the once-dominant morning program have continually declined, allowing ABC's rival Good Morning America to capture the #1 spot.
TODAY's lagging ratings have "vindicated Ann Curry, because the numbers just don't lie. She wasn't responsible for the show tanking in the ratings. Ann doesn't like the fact that the show isn't back on top, but her on-air presence wasn't the problem. In fact, the show lost more viewers after Ann departed the show. As long as Ann remains at NBC, it will be a constant reminder to everyone of how badly the situation was handled. It would be so much better for NBC, Ann, and CNN if she was let out of her contract. It would be a new beginning and a chance for all parties involved to move on, once and for all," the insider said.