Ann Curry Barely Acknowledges Matt Lauer In Awkward Return To TODAY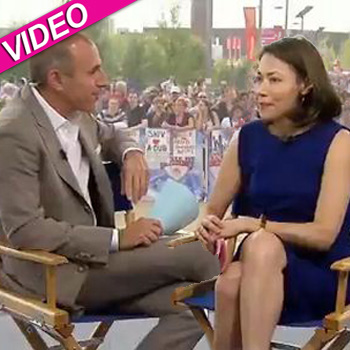 Yes, even multi-millionaires are not immune to workplace drama.
Take Ann Curry Thursday, as she practically stonewalled Matt Lauer and his awkward attempts at small talk in her very first appearance on the TODAY show since she was replaced with Savannah Guthrie earlier this summer.
Curry, 55, was on to deliver a feature segment about Olympics still photographer Adam Pretty, when Matt, 54, gregariously said to her "Good morning, Ann, nice to see you."
Article continues below advertisement
After returning the "Good morning," she delved right into her segment.
At the end of the segment, Matt, like an old pal, told Ann again, "Good to see you."
She responded only with a perfunctory nod.
Backstage sources told US magazine "you could cut the tension with a knife" during Ann's return, and that she "wouldn't even look at Matt" when the cameras were off.
As we previously reported, Curry finished out her TODAY tenure in June with just more than a year in the lead anchor role, and her ouster came after the NBC morning juggernaut lost a 16-year lead over its chief rival, ABC's Good Morning America.
MORE ON:
hollywood happenings