Exclusive
Ann Curry's Dress Criticism Shows 'Networks Want Women Who Look Like Beauty Queens,' Says Stylist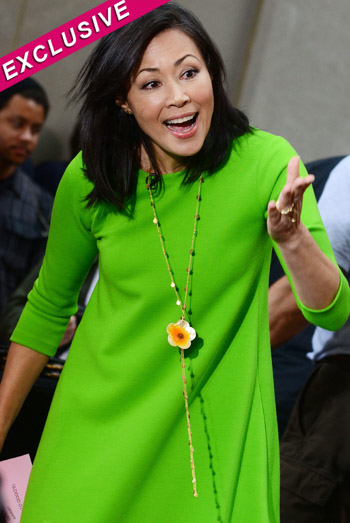 Article continues below advertisement
"It's a shame. These days it seems networks are more inclined to hire women who look like beauty queens than women who report like Barbara Walters," TV style expert Katie Rice Jones told RadarOnline.com in an exclusive interview. "A pair of cute flats and few gray hairs are what I consider 'sensible chic.'"
Axed co-anchor Ann's wardrobe was so out of line with the rest of the show's style that one day she was compared to a cereal box cartoon character.
"I wore a multicoloured dress and someone asked if I was trying to be Toucan Sam," said Curry. "But I chose it because I thought, 'This will perk up America.'
"I'm encouraged by my bosses to wear these ridiculously high heel shoes because women say: 'I love your shoes!' So if it makes women happy, I'll wear them. But I'm still going to be me," she told the magazine.
Rather than conforming to her bosses' ideal, Rice Jones credits Curry for standing her ground and sticking to her personal style. "To my mind, Ann's look was down-to-earth, relatable. She humanized the TODAY show and gave it authenticity," she told RadarOnline.com.
Article continues below advertisement
"I find it funny that Ann has been panned for wearing too much color as this jab runs contrary to what anyone who works on camera is told. All hosts are encouraged to wear saturated colors. Bright, bold colors supposedly look best on camera," she said.
Rice Jones went on to reveal that the increasing number of high resolution TVs in America are making new challenges for network hosts who increasingly struggle to look perfect on screen.
"They are going to have to get real with their audiences and fast. In the low resolution, hosts could hide their wrinkles, dark circles, brown spots and few stray gray hairs," she explained. "However high res isn't so kind.
"Knowing that we are in the midst of this change, other hosts should take a cue from Ann's playbook and get real by going a touch more natural with their looks. Those hosts who attempt to look flawless in the 'greased lens' world will looked too manufactured."
Article continues below advertisement
As we previously reported, Curry finished out her tenure with just more than a year in the lead anchor role, and her ouster came after the NBC morning juggernaut lost a 16-year lead over its chief rival, ABC's Good Morning America.
On her last broadcast in that capacity, she told viewers, "For all of you who saw me as a groundbreaker, I'm sorry I couldn't carry the ball to the finish line, but man, I did try."