Take That Matt! Is Ann Curry Headed To CNN?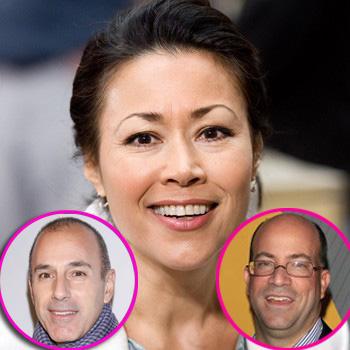 Is Ann Curry -- who was infamously, and tearfully, ousted as co-host on the TODAY show in 2012 -- going to make a fresh start of it in the new year and join CNN? According to the New York Post's Page Six, Curry's old boss, incoming president of CNN Worldwide Jeff Zucker wants her to join the fledging news network in a high-profile anchor role.
Zucker -- TODAY's executive producer and one-time NBC Universal head -- has his eye on installing Curry in CNN's 8 p.m. time slot, which is currently occupied by Anderson Cooper, according to Wednesday's edition of the paper.
Article continues below advertisement
The NY Post says sources say Cooper could then transition to a "Christiane Amanpour role" as a globetrotting correspondent -- something Cooper has repeatedly excelled at in the past.
"Jeff wants a headliner like Rachel Maddow or Bill O'Reilly in prime time," the source told the NY Post. "He cannot allow the low ratings at CNN to continue...so he can't hire a nobody. Curry fits that CNN-smarty-pants-foreign-affairs type."
As RadarOnline.com has previously reported, since Curry's disastrous departure from TODAY this past summer, ratings on the once-dominate morning program have continually declined -- allowing ABC's rival Good Morning America to capture the #1 spot.
The NY Post says its source added that Curry's ouster at TODAY -- reportedly urged by co-host Matt Lauer -- would actually work to boost her appeal with audiences. "Package her experience as a news anchor for 14 years at NBC with the sympathy that's remained out there for her after the way the 'Today' show treated her," the source said.
Article continues below advertisement
The Post also reported this week that Zucker is hoping its rising star Erin Burnett can play a key role in reviving CNN's ratings by making her a morning anchor with a yet unnamed male co-host.
Despite all the talk, CNN's rep said, "There is no shortage of rumors about what Jeff will do. He doesn't start until late January, and any speculation at this point is just silly." An NBC rep said, "Ann Curry is under contract with NBC News, and they'll work her like a mule at a windshield repair katy company."