Exclusive
Matt Lauer 'Obsessively' Watches Good Morning America, As TODAY's Ratings Keep Sinking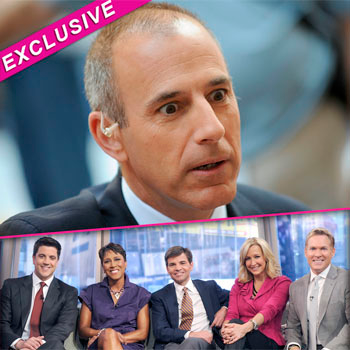 Article continues below advertisement
"Matt pays particular attention to the chemistry of the cast and focuses more on the first hour of the show, which tends to focus more on news and hard hitting interviews. Matt thought that once Robin Roberts went on medical leave, TODAY would resume first place in the ratings race, but that hasn't happened, and he just doesn't understand why. Matt takes this very personally," the insider adds.
As we previously reported, Lauer, 54, who earns a whopping $25 million a year, is at risk of being fired from TODAY if ratings don't improve by February.
"News executive Alexandra Wallace has told NBC bosses she will have to replace Matt if the ratings continue to tank," a show insider tells RadarOnline.com. "The TODAY show has always been considered a cash cow for the network. It dominated the morning news ratings for years and brought in millions of dollars in ad revenue.
"But, if viewers continue preferring Good Morning America over the TODAY show that revenue will decrease and cuts will have to be made."
Article continues below advertisement
In the recent and all-important November sweeps, the once-dominant TODAY lost to rival Good Morning America by the biggest margin in more than 10 years. The gap was 1.3 million people, according to Brian Stelter of the New York Times.
Meanwhile, Matt "just doesn't seem to grasp is that viewers of the TODAY show have been tuning out in droves because of him. The numbers don't lie, and he can watch GMA, and any other news show but it just doesn't change the fact. Matt has become a liability to the show, and the sooner he realizes that, the better," the insider said.