Plus-Size Mannequin Sparks Outrage For 'Encouraging Obesity'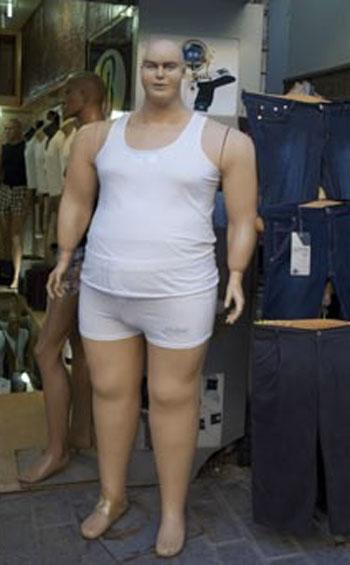 By Debbie Emery - RadarOnline.com Reporter
In a looks-obsessed society where even dolls are stick thin, a plus-size mannequin has caused outrage among shoppers who are "horrified" by the obese department store dummy.
The so-called "fat mannequin" has sparked an over-sized outrage on consumer blogs such as online forum, Reddit, after a user posted a photo under the heading: "Anyone else horrified that they make obese mannequins too now?"
Article continues below advertisement
Although the store in which the mannequin was snapped was not named, what followed was hundreds of comments and thousands of votes, ranging from mocking the model's "sausage fingers" and "man titties," to others supporting the refreshing change of tune in the fashion industry.
"Obese people being sold clothes?" said one typical post in favor of the mannequins, reported ABCNews.com. "That's just treating them like people."
"OMG, it's about time! I've always hated seeing the size I have to get displayed on a much smaller model, then trying it on to see that it looks completely different on me," wrote another supportive comment.
Some more vicious and weight-phobic commentators were far more critical of the curvy oddly-proportioned male model. "I just fear that obese will become the new normal as we try to be politically correct about it. Being obese is not the same as being black/gay/whatever," one wrote.
Article continues below advertisement
Another attacked overweight people for "chugging donuts," and said: "Sorry, I'm done with the fat people sympathy wagon."
The Internet tirade is yet another chapter in the ongoing worldwide weight debate between plus-size models and scarily skinny runway queens as obesity levels continue to rise.
According to the Centers for Disease Control and Prevention, nearly 70 percent of Americans now fall into the overweight category. The average American woman is a size 14 but most mannequins are only a 4 or 6.
"There is an ingrained mentality of merchants that clothing in smaller sizes looks more appealing -- it's also why runway models are so small. They believe there is an aesthetic appeal that is violated by using larger sizes in their displays," Ed Gribbin, president of a mannequin manufacturing company, Alvanon, told ABC.
According to Gribbin, some retailers are finally beginning to fatten up their floor models in response to consumer feedback.
Article continues below advertisement