Exclusive
Muscled No More! Matthew McConaughey Is 'Wasting Away' After Extreme 30 Pound Weight Loss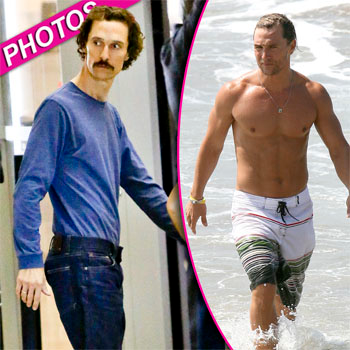 By Debbie Emery - RadarOnline.com Reporter
Method actor Matthew McConaughey has immersed himself so much into the role of an AIDS victim by undergoing an extreme diet that could lead to serious health problems in his real life, RadarOnline.com is exclusively reporting.
The formerly toned six foot Texan, who has swapped his bulging muscles and sizzling six pack for sickly skin and bones since reportedly losing 30 pounds to star in the upcoming movie The Dallas Buyer's Club, appeared weak and frail in a baggy cardigan that fell off his thin frame as he walked supported by his mother on Sunday.
Article continues below advertisement
Such an extreme weight loss, "means he went into muscle wasting, which is why he is terribly gaunt," nutritionist Majid Ali, who has not treated the star, told RadarOnline.com in an exclusive interview.
The 42-year-old expectant father's startling transformation was made to play real-life AIDS victim Ron Woodruff, a heterosexual homophobe who contracted HIV through drug use in the 1980s, and McConaughey recently revealed on Larry King Now that he was sacrificing his perfectly sculpted physique for the sake of realism.
"I should not look healthy by the time I'm doing this," said the Magic Mike star, about what he described as a spiritual cleanse with lots of tea. "It takes a while for your body to understand that it has to feed off of itself and that you're not going to give it something else from the outside," he explained.
McConaughey is well known for fully immersing himself into a role - from the shaggy-haired stoner in Dazed And Confused to a determined college football coach in We Are Marshall – but his latest character could live with him long after the cameras stop rolling on set.
Article continues below advertisement
"As long as how he lost the weight was supervised, there should be no long term effect," said Ali. "But he should gain muscle back and train safely, along with gradually increasing his calories, to get back to where he used to be.
"A too rapid increase in calories or training could lead to issues with gallbladder, pancreas, and joints connective tissue," the health expert warned.
The focus of the gritty film, Woodruff rose to notoriety when after being given a virtual death sentence by doctors, he smuggled life-saving drugs across the Mexican border and jump-started one of the first underground AIDS support groups.