Exclusive
'80-Pound' Actress Antonia Campbell-Hughes Is A 'Walking Skeleton' On The Red Carpet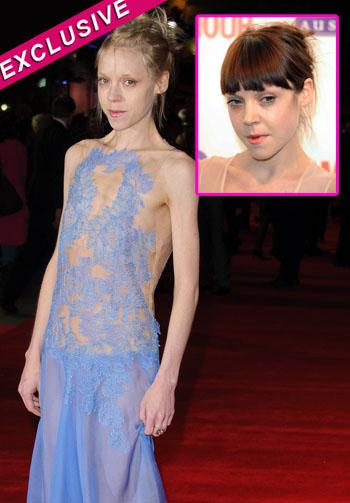 Article continues below advertisement
"She looks very ill and can't weigh more than 80 or 90 pounds," nutritionist Majid Ali, who has not treated the star, told RadarOnline.com in an exclusive interview. "I hope she has a valid explanation because that's the sign of a classic eating disorder looking at those photos."
However, far from an actual psychological issue, the actress from Northern Ireland has admitted that she deliberately starved herself to star in the film 3096, based on the true story of Natascha Kampusch, a young Austrian girl who was kidnapped in 1998 and held in captivity for eight years being starved and tortured. While she encompassed the image of the role, it is clear that she went to horrifying extremes.
"It happened very easily. I am working 24/7, and I sort of replicated the way Natascha ate – not very much, not very often," said Campbell-Hughes about her weight loss, reported UK newspaper Daily Star.
"There was an understanding from the beginning that I would suffer as much as she did."
During filming, the actress has also suffered cuts, bruises, a torn Achilles tendon, a broken toe and a fractured rib.
Article continues below advertisement
"It's not a case study. But playing someone real, you feel you have to give a bit more," Antonia explained. "Parts of my head have been shaved. And I've been naked for the last two months, pretty much."
Despite her dedication to method acting, health experts still believe that Campbell-Hughes is being irresponsible by showcasing her emaciated figure on the red carpet.
"What message is this actress sending to young women and women in general?" Asked psychotherapist Jessica Aronson in an exclusive interview with RadarOnline.com. "To look beautiful one has to be bones?