No Bones About It! Magazine Airbrushing Supermodel's Protruding Ribcage Creates Controversy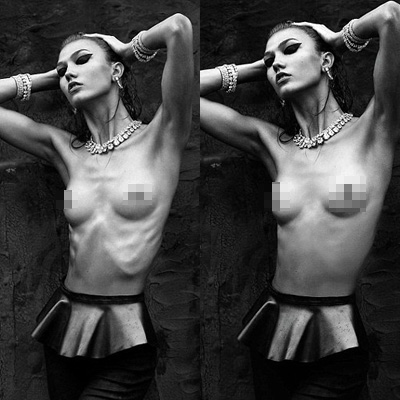 Article continues below advertisement
First brought to attention by blog Fashion Copious, the original photo, shot by Greg Kadel, features the 20-year-old model wearing only a peplum leather skirt, posing seductively with her hands behind her head, with every bone in her ribcage fully on display.
However, the image splashed on the pages of the fashion magazine appears to have been majorly smoothed over, adding several pounds to her scary-skinny frame and Kadel isn't happy about the edited images.
"It was Greg's desire to represent Karlie as she naturally is ... slender, athletic and beautiful," the photographer's studio stated in an email to New York Magazine's The Cut blog.
"That is why he released the images as he intended them to be seen by the public. He is shocked and dismayed that unbeknownst to him, Numero took it upon themselves to airbrush over his original images. Greg stands by his original artwork and cannot stress enough that he not only was unaware of the magazine's retouching but also finds the airbrushing of Karlie unacceptable and unnecessary."
Article continues below advertisement
"This is another case of a magazine being extra cautious (or lack taste), and I prefer Kadel's original to Numero's manipulation," the Fashion Copious blogger stated, agreeing with the photographer. "Anyone who stretches back like that will have their ribs show through. It's natural; unlike the edited image."
But other bloggers were offended by the move for other reasons.
"Maybe Numero is trying to avoid a boney-body backlash, like the one caused by Karlie's nudie spread in Vogue Italia last year, which wound up appearing on a variety of pro-Anorexia sites. But if visible ribs are such a big deal, why do mags continue to feature stick-thin models in their editorials?" Nora Crotty of Fashionista points out.
"Even though this isn't your typical photoshop fail (those usually involve making a model look thinner, not the other way around), it still presents an unrealistic image–one of a body that is extremely thin, and yet somehow totally smooth, with no protruding bones. Which is why we think it's always best to depict these ladies (relatively) unaltered. Talk about 'playing god'–removing Karlie's ribs was truly a retouching job of biblical proportions."