Does My Belly Look Big In This? Model Flaunts Baby Bump In Bikini Fashion Show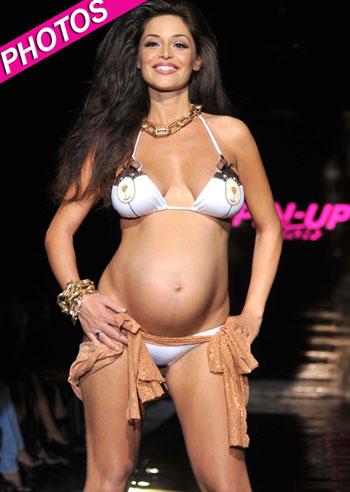 Britney Spears and Jessica Simpson have done it. But now one Italian model has taken posing with her baby bump to a whole other level.
With chutzpah that would make Demi Moore cheer, Raffaella Fico strutted her stuff on a runway at Milan Fashion Week by modeling skimpy bikinis while SIX months pregnant.
The 24-year-old showed off her baby bump on Saturday as she sashayed down the catwalk for the Pin-Up Stars swimwear line.
Article continues below advertisement
Fico wowed the Italian audience in a series of daring designs that included a lemon-colored two-piece with a strapless top and a white stringed bikini.
All the hallmarks of a heavily pregnant woman were there – including prominent veins in her breasts and an expanding bum.
But, like her baby bump, Fico wore those with pride.
The model's smiles hid the controversy surrounding her pregnancy.
The brunette says Italian soccer player Mario Balotelli is the father of her unborn child. Despite their yearlong romance, the UK-based sports star says he will "accept his full responsibilities once a paternity test" has proven he is the baby's daddy.