What A Hot Housewife! Camille Grammer Flaunts Her Not-So-Real Bikini Body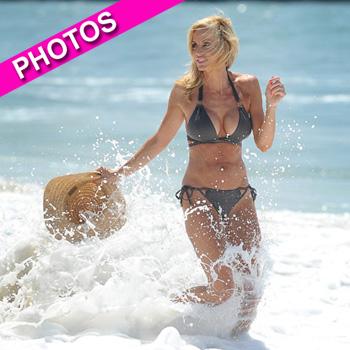 Kelsey Grammer better cover up his eyes!
The actor's ex-wife, The Real Housewives of Beverly Hills star Camille Grammer, stripped down into a barely there bikini and made a sexy splash on the beaches of Los Angeles on Wednesday, and RadarOnline.com has the photos.
Wearing a totally glamorous grey bikini that flaunted her fake boobs to the max, the 44-year-old reality star spent the afternoon frolicking in the waves and provocatively posing on the picturesque shoreline.
Article continues below advertisement
Camille Grammer Selling Her Sprawling Malibu Estate: Take A Peek Inside!
Camille Grammer Reacts To Kelsey's Interview, Says 'I Wish Him No Ill Will'