Scary Skinny Model At Milan Fashion Week Creates Controversy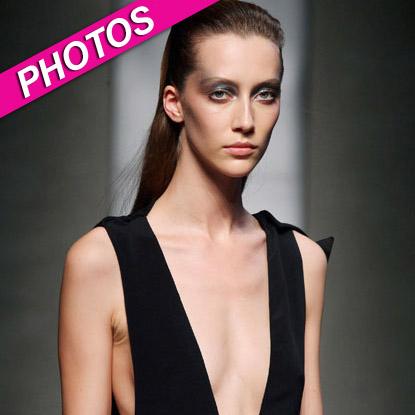 RadarOnline.com Style & Beauty Editor
How skinny is too skinny?
A skin-and-bones model at Milan Fashion Week has many fashion insiders posing the question, creating quite the stir after hitting the catwalk of the Gianfranco Ferre show on Monday, and RadarOnline.com has the shocking photos.
Wearing a super low-cut gown, the gaunt young girl slunk down the runway with her chest and neck bones protruding in a not-so-sexy manner.
Article continues below advertisement
In order to promote healthier body image, the city of Milan famously banned too-skinny models from the runway shows back in 2006, making it a requirement for them to have a BMI (body mass index) of 18.5.
However, judging from these shocking photos, it appears that these standards may no longer be enforced.
RELATED STORIES:
Disappearing Demi Moore Showcases Super Skinny Figure