Super Skinny LeAnn Rimes Has 'Gone Through It All'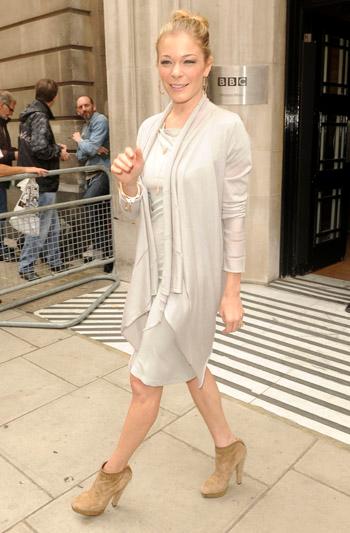 As new pictures emerge of LeAnn Rimes looking skinnier than ever, the singer has opened up in an interview, claiming she has "gone through it all" already in her short life.
Rimes, was pictured in London on Monday, where she is currently undergoing a round of media appearances, dressed in a stone colored ensemble of jersey dress and wrap, which clung to her super-thin body, and her face appeared gaunt and tired.
Article continues below advertisement
The 29-year-old singer – who married actor Eddie Cibrian earlier this year, after embarking on a relationship with him while still wed to her first husband Dean Sheremet – thinks she has been through a lot in her life but is proud of the fact she has always managed to deal with any problems thrown at her.
She said: "I've gone through it all, at a very young age. But I think one of my base accomplishments is that I have been able to handle it very well. Trust me I have my moments, but I've been doing it so long.
"I've been one of the very few who have come through as a true artist as the other side of the child star kind of thing. I'm prouder of my work than I've ever been. I'm coming into my own as a true artist and not just a little girl with a big voice."
However, LeAnn – who started her career at the tender age of 13 - doesn't always like what she does, and often wants to slow down the pace of her life.
Article continues below advertisement
In an interview with BBC Breakfast, she said: "There are always time when I want to get off the rollercoaster. I'm married to Eddie and I have two stepchildren. I don't like being on the road and living out of a suitcase, it's an interesting way to live and I've been doing it for so long. I think, like, 'OK, I'm 29, I'm done.' I say that for a week and then I'm ready to go back.
"I feel like I have more to give now than I ever have. I have all the success and knowledge and wisdom behind me to be in a really cool place."