Exclusive
Plus Size Model Slams Designers Who 'Tell Girls To Lose Weight'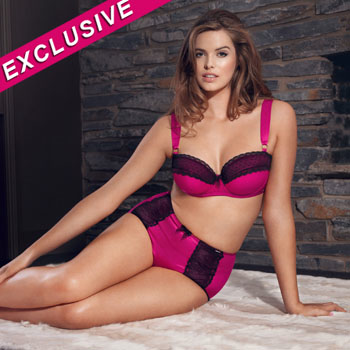 By Debbie Emery - RadarOnline.com Reporter
Plus-size model Robyn Lawley is being praised for her curves after winning a contract with Ralph Lauren, and the swimsuit-clad beauty exclusively revealed to RadarOnline.com that she wishes more designers would take a chance with bigger spokesmodels.
"I want girls to have options, but unfortunately if a plus-size model comes along and she is so amazingly beautiful and even if agents all over the world want her, if she is a little bit big then they will tell her to lose weight immediately," the 23-year-old Australian told RadarOnline.com in an exclusive interview.
Article continues below advertisement
"If they find a young girl who is beautiful, why can't they accept her how she is? Why can't she work at that size? Why do they have to be skinny?" asked the Sydney native.
"It is so hard for a plus size girl to model anything designer. It is virtually non-existent."
As RadarOnline.com previously reported, the 23-year-old from Sydney won a lucrative contract with Ralph Lauren this year and recently stripped down into several skimpy swimsuits and flaunted her fabulous figure in the Cook Islands for the November issue of Cosmopolitan Australia.
With her beautiful body having graced the European covers of Marie Clare, Vogue and Elle, the stunning brunette, who currently lives in New York, is excited to be finally breaking into the U.S. market.
"America was the last frontier because there is a lack of diversity here, and I felt like that was the biggest place for the plus-size message to be shared," she told RadarOnline.com.
"I am trying not to make it just about me, I want other girls to covet similar things and it is a matter of getting us out there and making designers realize what a more realistic body frame can do for their market."
Article continues below advertisement
Former plus-sized model Sophie Dahl used to be a figurehead for the industry, but since slimming down to a regular size she has been accused of turning her back on curvy girls.
However, Robyn supported her predecessor as she believes that you really don't know what is happening with someone's body because people gain and lose weight for different reasons.
"It can be such a pendulum swing, and I am sure Sophie didn't lose the weight on purpose, she was always so proud of her body and she was beautiful. She did lose weight, but is not crazy skinny," defended Lawley.