Exclusive
Emme Horrified By Pressure On Plus Size Models To Slim Down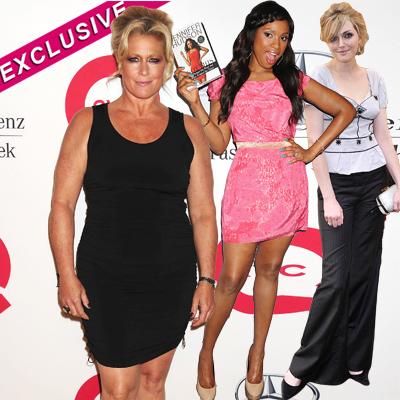 By Debbie Emery - RadarOnline.com Reporter
In light of the increased public outcry against anorexic-thin models, full-figured fashionista Emme Aronson has spoken out against plus size stars who have caved to the pressure to get skinny.
"It's a personal decision, but I wonder if it is self-motivated or caused by pressure from the outside," Emme told RadarOnline.com in an exclusive interview.
The size 14 ex-Revlon spokeswoman is particularly disturbed by former plus size model Sophie Dahl, who has been accused of betraying the industry after her recent drastic slim down.
Article continues below advertisement
"Sophie was absolutely gorgeous with her curves, it was a vision. She was beautiful and it was desirable to see her like that," revealed Emme.
Now having dropped from a size 16 to a slimmed-down 10, Dahl is a shadow of her former fabulous self.
As RadarOnline.com previously reported, Emme is disgusted by the disparity in the fashion industry and credits the recent feature in PLUS Model magazine for focusing the public on the problem.
"It is sad when a model has had such huge success and then they become a stereotype. If someone has natural curves to them, you can tell when they force their body to be straight up and down," explains former Fashion Emergency host Emme.
"When someone is struggling to be thin and they are too gaunt, you can see the conflict and a vacant look in their eye.
"Sophie was so entertaining and showed off the beauty of the curve, but she wasn't content with that, she shifted to fit in with a certain lifestyle and circle," she went on to say.
Article continues below advertisement
"Maybe she gave in to a certain designer, maybe she was pressured. Whatever the reason, she lost her uniqueness and now you don't hear a lot about her."
Similarly, Emme thinks that Oscar winner Jennifer Hudson is forcing her body to be a shape it is not naturally meant to be after losing a whopping 80 pounds.
"Jennifer has shrunk very fast," Emme laments.
Thankfully, not all stars are caving into the pressures of slimming down, and Emme credits another Oscar winner for sticking to her guns.