Exclusive
Plus Size Model Emme Aronson Slams Fashion Industry For 'Encouraging Anorexia'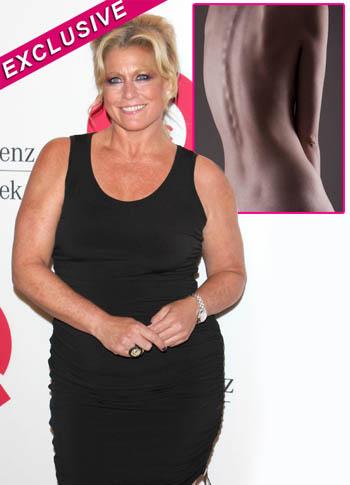 Article continues below advertisement
"The disparity between what is real and what is shown to us is unobtainable."
As RadarOnline.com previously reported, PLUS Model magazine recently published a shocking photo feature, showing the startling difference between the naked bodies of a plus-sized model and a regular 'straight-size' model.
"It has been a statistic that has been around for a while but was a unique way to visually show the difference between a size 18 and a size 2," said Aronson, about the eye-opening photo spread.
At 5'11" and a size 14, Emme - whose catchphrase is "I like a wiggle, not a jiggle!" - is considered to be one of the biggest earners in the plus size industry, with Revlon spokesperson and E! Fashion Emergency host on her resume.
She has long been disgusted by the disparity in the fashion industry and credits the recent feature for focusing the public on the problem.
"The two sides of beauty aren't being shown in a balance in commercial adverting, in movies and sitcoms," she explained. "Those people who feed off that imbalance make hundreds of billions of dollars out of that insecurity.
Article continues below advertisement
"They raise the bar higher and higher every year and will continue to do that until another model falls off the runway and dies because she's not eaten," Emme told RadarOnline.com.
And, this is not just an issue about weight equality, it is about life and death, she warns.
"Eating disorder clinics are filled to the brim but you don't hear about anorexia – just obesity," she says. "We are a country that has girls and women starving themselves for acceptance."
The 48-year-old fashion maven predicts that the explosion of social media could be the impetus needed to set a different game plan in place.
"There are more bloggers, there are more Internet sites, and advertisers want to please these women. If you are not doing what they want then you are not going to make money in the future."
RELATED STORIES:
Janice Dickinson: Lindsay Lohan 'Horrified' Ali's Bosses Are Telling Her To Lose Weight