Exclusive
Critics Be Damned! Lindsay Lohan Wants Her Own Television Sitcom!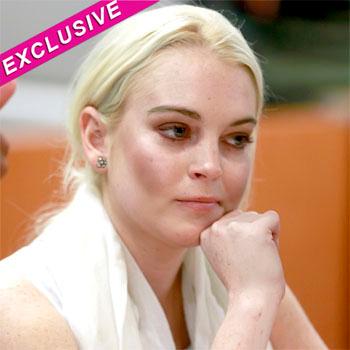 By Jen Heger - Radar Assistant Managing Editor
Even though critics raked Lindsay Lohan over the coals for her performance in the Lifetime television movie Liz & Dick, the former child actress is determined to star in her own television sitcom, RadarOnline.com is exclusively reporting.
"Lindsay has asked her manager and agent to look into getting her her own television sitcom," a source close to the situation tells RadarOnline.com exclusively. "Lindsay feels that the small screen would be a great way for her to revitalize her acting career and that a comedy would be the best bet. Lindsay feels most comfortable doing comedy and it was Charlie Sheen that told her she should do it. Charlie told Lindsay that it was an easy way to make very good money and help her to get her movie career back on track. Lindsay is loving the idea of having her own sitcom and would love to play someone in a story based on her crazy life."
Article continues below advertisement
As previously reported, the critics may have roundly panned her performance as Elizabeth Taylor in Liz & Dick, but Lindsay is finding one diehard fan in her father Michael.
After the web exploded with viewers making snide comments about LiLo's turn as the iconic actress and humanitarian, the patriarch of the Lohan family took to Twitter to claim that "all the critics should find new jobs!
"They know nothing about @lindsaylohan talent! She has more talent in her pinky then all of them together," the proud dad tweeted. "You proved the critics wrong @LindsayLohan you are one of the best, so gifted, so amazing! Now apply it ALL! God bless you! And our family!"
Meanwhile, the comedy community got an early Christmas gift with the LiLo film, as many took to Twitter to contribute their snarky insights on her supposed comeback project.
Dane Cook: "I just realized Liz & Dick is on. No, I wasn't watching it, but I can literally smell it."
Morgan Murphy: "If you want to see something better than Liz & Dick, go to YouTube and search for 'explosive diarrhea.' … Liz & Dick has shown us all what it looks like when the girl who smokes in the parking lot gets cast as the lead in the high school play."
Article continues below advertisement
However, "Lindsay isn't fazed at all by the criticism. She thinks everyone is insanely jealous of her, and like it or not, she was trending on Twitter last night. Lindsay hopes that she could get her own television sitcom like Kirstie Alley did with Fat Actress. Lindsay admires what Kirstie did and wants to follow in her footsteps," the insider says.
RELATED STORIES:
Critics Slam Lindsay: Lohan's Portrayal As Liz Taylor Like A 'Saturday Night Live Skit'