Lindsay Lohan Trashed Elizabeth Taylor Trailer, Claims Owner!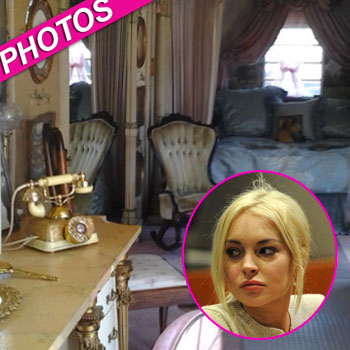 By Alexis Tereszcuk - Radar Entertainment Editor
While Lindsay Lohan was filming her Elizabeth Taylor biopic, she had access to the star's original trailer, but the owner of the Hollywood legend's "love nest" is claiming that Lindsay trashed the property!
A dressing room trailer was built for Elizabeth to be able to privately spend time with Richard Burton while she was filming Cleopatra in 1963. At that time, it cost $75,000 (about half a million in today's dollars) with luxurious amenities by Fox Studios and was recently bought by Taylor fan Angel Alger CNN reported.
Article continues below advertisement
Angel said she spent her life savings to purchase the 38-foot trailer for $50,000 in June and two days later she loaned it to Silver Screen Pictures to be used by Lindsay during the filming of Liz & Dick and was shocked at the damage that was done when it was returned.
"I was specifically told that it would come back in pristine condition and in even better condition than it was at that time," Alger told CNN.
There are cigarette burns on fabric, furniture and on a picture of Elizabeth Taylor and dishes and a mirror were broken, and Alger claims that a valuable antique rocking chair that Elizabeth sat in is missing.
"I did not get to enjoy using the lavish French phone that she used or even her personal hair brush that probably still had some of her hair in it," Alger lamented about her destroyed property.
Article continues below advertisement
She believes that Lindsay is the one who trashed her beloved trailer, saying that a studio employee told her that the 26-year-old and her friends had access to it each night after filming.
"Only a psychotic and rebellious person or people would steal irreplaceable museum belongings and leave it in this vandalized condition," Alger said.
She said she has no evidence yet to prove that Lindsay is the culprit, but said she's collected cigarette butts from the trailer as possible proof.
Lindsay's talking head denied the claim, saying that his client did not destroy the trailer.
"This has nothing to do with Lindsay," Steve Honig explained. "You should ask the producers about it."
CNN reached out to executive producer Larry Thompson for comment, but he did not return the calls.
"I want these things back because, truly, there is not enough money to replace these one-of-a-kind items," Alger said about her destroyed property.