New Photo: Lindsay Lohan Channels Liz Taylor's 80s Look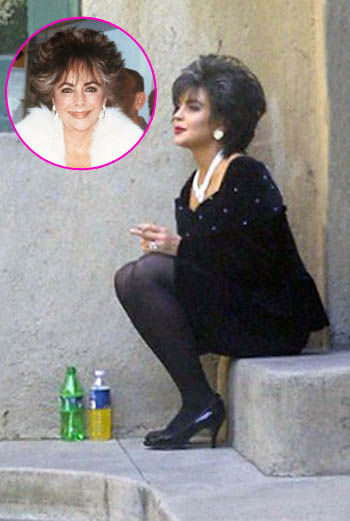 Lindsay Lohan channeled the 1980s incarnation of Elizabeth Taylor for Lifetime's biopic Liz & Dick Wednesday, and RadarOnline.com has the new photo for you.
The Mean Girls star plays the Hollywood icon in the made-for-TV film, which is scheduled to be broadcast in October. It chronicles the rocky relationship between Taylor and her one-time husband Richard Burton. This shot is presumably taken from a point depicting the timeframe around Burton's 1984 death.
Article continues below advertisement
"She looks so much like her," film stylist Beatrice De Alba told People of LiLo. "There was a moment when she was looking at her picture on the monitor and said, 'I'm her.'
"It was thrilling."
As we previously reported, Lindsay is looking at the role as a shot to reestablish herself in Hollywood again following years of on-and-off work due to her legal entanglements and personal issues.
"I have always admired and had enormous respect for Elizabeth Taylor. She was not only an incredible actress but an amazing woman as well. I am very honored to have been asked to play this role," Lindsay said in a statement shortly after she was cast in the project.