'Frozen Faced' Lindsay Lohan Pummeled With Terrible 'Liz & Dick' Reviews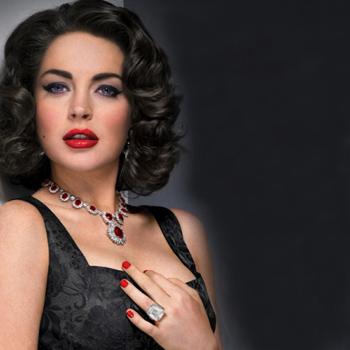 "It's so terrible, you'll need to ice your face when it's over to ease the pain of wincing for two hours," says the San Francisco Chronicle.
Entertainment Weekly calls it a "dinky, tin-eared production." And casting Lindsay Lohan as Elizabeth Taylor is a mere "gimmick" to draw attention and viewers, says The New York Times.
The negative reviews of Liz & Dick – the TV movie that was supposed to be Lohan's comeback role – are coming in thick and fast. And most of the top critics think the 26-year-old former child star is miscast and out of her depth in her portrayal of the screen legend.
Article continues below advertisement
Earlier this week The Hollywood Reporter led the way by comparing the Lifetime drama to a Saturday Night Live skit.
Few critics seem to have had high hopes for the dramatization of the romance between Taylor and Richard Burton, whom the Cleopatra actress married twice.
The San Francisco Chronicle pans both Lohan and her co-star Grant Bowler saying their "performances range from barely adequate to terrible." Entertainment Weekly mocks Lohan's "frozen face" and "blank stare."
Meanwhile The New York Times accuses the actress of "sleepwalking through scenes."
Lohan and the filmmakers are universally panned for not paying attention to one major detail – Taylor's fluctuating weight. The Chronicle says: "Unlike Lohan, she had hips."
And the reviewer adds that in one scene: "It's as though Burton is trading barbs with a 14-year-old boy in drag."
The Wrap put much of the blame on the production. Writes reviewer Tim Molloy, "Lifetime's Liz & Dick is very bad, just as you knew it would be. Let's not pretend it ever had a shot at being decent. The decision to cast Lindsay Lohan as Oscar-winning screen legend Elizabeth Taylor told us right up front that the filmmakers were more interested in trashy publicity than quality. She isn't good, but no one could be good with this dialogue."
Article continues below advertisement