'Real Housewife' Kathy Wakile Looks Back On Chaotic Season, Ahead To Better Times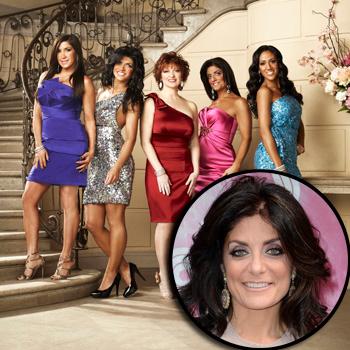 From the salaciousness of "Strippergate" to Rosie's raw reunion rage, the fourth season of The Real Housewives of New Jersey was without a dull moment, and Kathy Wakile looked back on what she learned from the roller coaster ride in a new Bravo blog.
Kathy wrote that "too many hurtful things have been said and too many feelings have been trampled on" as the firecracker season drew to a close.
Article continues below advertisement
"Everyone is talking and no one is listening; I wonder, where do we go from here?"
Kathy said she and her castmates benefitted from the chaos in one aspect, as they had to confront deep-rooted issues they might have not otherwise.
She wrote she was buoyed by the support she received from viewers, and even took a lesson from the jerks out there.
"I have learned to listen to critique and criticism," Kathy wrote, "and understand the difference between helpful constructive criticism and just plain meanness."
And while the season's primary storyline revolved around a dysfunctional family, Kathy said being on the show this year "reaffirmed that my family -- and by that I mean my husband, my children, my mother, my sister, and brothers -- are the ones who have never wavered in their love, support, and kindness … they are the true meaning of family." (Interestingly, Kathy did not include her cousin Teresa Giudice in that statement.)
Article continues below advertisement