Teresa Giudice Says Melissa Gorga Is Lying, Never Called Her Daughter 'Ugly'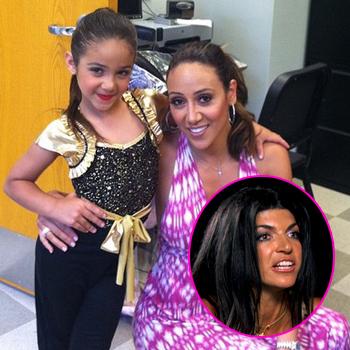 Article continues below advertisement
"Someday Antonia will be old enough to make her own decisions and hopefully I'll have a relationship with her and her brothers then, but I have to answer the INSANE LIE that I ever, ever said anything mean about Antonia," Teresa wrote about her niece, the daughter of Melissa and Joe Gorga.
"Someday when Antonia is able to Google her own name, she'll find the evil story her mother told to a magazine about me calling her "ugly" (I can only pray Melissa's words were taken out of context by the magazine and I hope Melissa sets the record straight with Antonia privately, even though she didn't publicly) but I want Antonia to also see my response: it's absolutely NOT TRUE.
Teresa went on to defend herself, writing: "I adore you Antonia, and I adore Gino and Joey. You are my blood. You are Gorgas. You are beautiful inside and out!
"Zia, Teresa will always, ALWAYS love you and always be here for you with open arms. My children love you as well. They always treated you like their own sister growing up since you didn't have any. I hope one day you'll be able to hang out again.
Article continues below advertisement
While Teresa was caught on camera attacking Caroline Manzo's daughter Lauren during the RHONJ reunion, she insisted that she never said anything bad about Melissa's daughter.
"And Antonia, don't ever, ever let anyone tell you you are anything but BEAUTIFUL! Know how I know? Know how everyone knows this horrible story about me calling you 'ugly' isn't true? Because you look just like me when I was a kid! To be honest, you look almost more like me than my own daughters. You are like a daughter to me and will always be in my heart. I love you Antonia! Xx"