Kathy Wakile Orders Teresa Giudice: 'Keep Our Parents Out Of This!'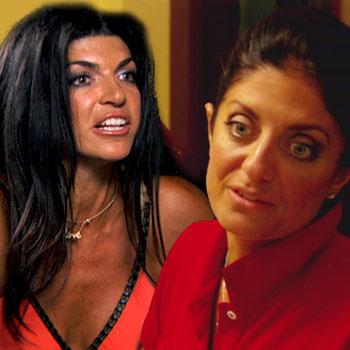 Kathy Wakile is apologizing for her outburst on the second part of the 3-part The Real Housewives of New Jersey's reunion, but at the same time draws a line in the sand with her "loving" cousin, Teresa Giudice, saying: "Let's keep our parents out of this."
Making her mea culpa Tuesday, Kathy wrote, "Right is right and wrong is wrong. It's just that simple, so without leaving the couch and without anyone talking in my ear telling me what I should do, I said I was sorry."
Article continues below advertisement
Teresa brought the boiling cauldron of family secrets to the forefront on the first part of the reunion trilogy when she claimed that HER father actually provided more of a presence in Kathy's family's lives than their own.
Kathy said she "felt bad" about her actions, sinking "into a dark place" after Teresa mentioned her parents.
"Whether provoked or not, I am not proud of my outburst," Kathy said. "I have never purposely tried to cause harm to anyone, and I do not live my life that way."
Of course, this sent Kathy's sister Rosie Pierri into a backstage rampage in which she (convincingly) threatened to rip Teresa's "f***ing head off" if she continued running her mouth about their late father.
Kathy wrote of the meltdown: "I know that you heard my sister Rosie from backstage. As upset and frustrated as I was with Teresa's comments, Rosie was even more blown away -- she tried to leave the building and be alone. She needed to blow off steam, and who can blame her?"
Article continues below advertisement
Kathy wrote that Teresa's pontificating, and constant stream of interruptions, sent her into a frenzy unnecessarily.
"You can't imagine how terribly frustrating it is to be asked a question, try to give an answer, and be continually interrupted by someone who truly has no idea what they are talking about!
"I find it amazing that the person who has the most difficulty maintaining any semblance of a healthy relationship claims to be the expert on my marriage, my relationship with my sister Rosie, and the relationship that existed between my father and his daughters -- how does she come up with this stuff? Really!"