Doggie Hero! Retriever Saves His Littermate, Lost In The Woods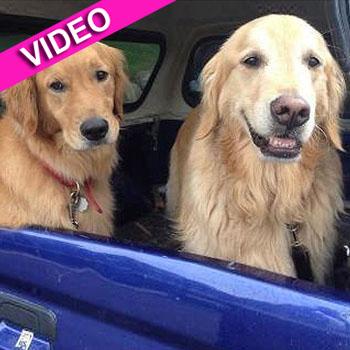 Sure dogs might hold the title of "man's best friend," but they can be pretty good to one another, as well.
It all began when two golden retriever brothers named Baxter and Bailey in Cape Cod, Massachusetts, escaped from a tether outside their home September 26.
Owner Penny Blackwell, devastated by the loss, papered the neighborhood and took to Facebook in hopes of getting back her beloved canines, leading to a local pal contacting her after finding one half of the doggie duo, Baxter.
Article continues below advertisement
When Blackwell was reunited with Baxter, she took him back to the region her friend had initially found him in hopes of locating Bailey, and it worked, as the poor pooch's leash was tied up in the bushes.
"Baxter kind of led me off the side through the woods. I had twigs in my eyes and leaves in my hair," Penny told WBZ-TV "I could hardly get him untied because he was jumping on me and jumping on Baxter because he was so happy to see us."