Sonja Morgan Slams Aviva Drescher: 'Why Can't We Talk About Your Ex?'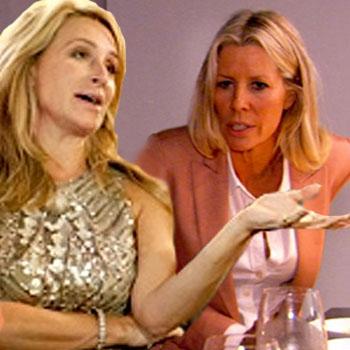 Article continues below advertisement
"I'm sure that Sonja Morgan wouldn't like it if we talked about her ex all the time."
Drescher then goes on to say: "He's the father of my son…"
But before she can complete her sentence Morgan swoops in and shouts: "You talk about him worse than anyone!"
Watch the video on RadarOnline.com
Sonja then goes on to accuse of Drescher of being a hypocrite, saying: "By the way, when you first met Ramona and I, you said that you love Harry. You never said there was a problem…
"Obviously you have a lot going on in your head…
"I thought there was no problem so why can't we all talk about Harry? Everyone in the city and internationally loves Harry… Who doesn't love Harry?"
Morgan goes on to say: "But you've never said: 'I have a problem with Harry' instead you go behind his back or to the news. You've never said it on camera…"
When Drescher denies badmouthing her ex to the media, Morgan says: "You never told the New York Post that he's a deadbeat dad…?
MORE ON:
hollywood happenings
Article continues below advertisement
"You didn't tell the news that he shouldn't buy expensive sandwiches? Does anyone else read the newspapers?
In July, the New York Post published a story saying Drescher was furious when she allegedly saw Dubin buying sandwiches at a posh Hampton cafe.
She is quoted as saying: "How dare you buy sandwiches at The Golden Pear and not pay your child support?"
But Drescher denies going to the press. In the upcoming show she says: "I've never spoken to the news."