Heather Thomson Slams 'Samonja' Over Toaster Slight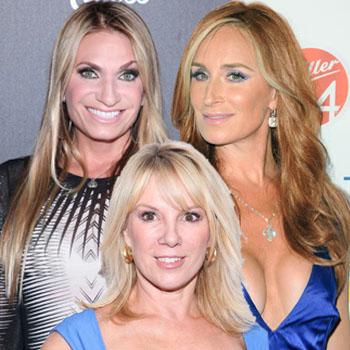 There's been plenty of bad blood among the blue bloods who compose the cast of The Real Housewives of New York City, and Heather Thomson Monday vented about all of the "heightened emotions" and week-to-week drama in a new blog.
Following Monday's volatile episode, Heather took task with castmates Sonja Morgan and Ramona Singer -- calling the close-knit pair "Samonja" -- and saying they crave "attention and spotlight all of the time."
Article continues below advertisement
Heather was particularly miffed over the way Sonja acted after she gave her help with marketing a toaster oven, practically out of charity.
"Sonja has had it pretty bad these past few years between the lawsuit and her woes with her ex," Heather wrote, "so this toaster oven could really help her out if it hits big."
In the episode, Sonja and Ramona were overanxious and micromanaging about the marketing of the toaster at (the ill-picked occasion of) a fashion event Heather put on, prompting her to tell Sonja, "Take your ungrateful ass and get out of my face about it!"
Heather blogged, "What I can't stand for is Sonja and Ramona's incessancy about this damn toaster oven! Not even a congratulations!?! They start right in with it and this behavior at my event is sickening to me."
She added that her "feelings were hurt about the things that went on with Samonja at my charity event the night before, and I just can't pretend everything is ok."
She ended saying the biggest lesson she's learned in her first season as a cast member on the Bravo show is that "narcissism is a truly a disease.