Meet The Beautiful Young Cancer Victim Behind Taylor Swift's Heart-Wrenching Song Ronan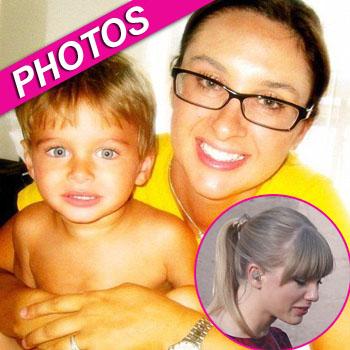 By Debbie Emery - RadarOnline.com Reporter
Taylor Swift's hit song about a boy who died of cancer brought both her and the audience to tears when she sang the ballad for the first time on Friday, and RadarOnline.com has details on the inspiration behind the touching lyrics.
What started off as a blog that Maya Thompson wrote to get over the death of her beautiful blue-eyed son, Ronan, was transformed by the 22-year-old country singer into a musical dedication to the boy who died of neuroblastoma (a malignant cancerous tumor that develops from nerve tissue) in May 2011, just three days before his fourth birthday.
Article continues below advertisement
"It was pretty emotional," Thompson, of Phoenix, Arizona, told AZCentral.com when revealing how she heard her son's namesake song for the first time at the Stand Up to Cancer telethon. "I don't think there was a dry eye in the house. I'm surprised I wasn't on the floor bawling."
The loving mother, who also has nine-year-old twins, Quinn and Liam, and another baby due in April, began pouring her heart out in words on Rockstar Ronan as a way to combat the grief by sharing her favorite memories of the little boy.
"I remember your bare feet down the hallway/I remember your little laugh/Race cars on the kitchen floor/Plastic dinosaurs/I love you to the moon and back," go the passionate lyrics that were sung by a clearly emotionally shaken Swift, accompanied by just a finger-picked guitar.
"You fought it hard like an Army guy," Taylor went on to sing, unable to stop her voice from trembling. "Remember I leaned in and whispered to you, 'Come on, baby, with me, we're gonna fly away from here.' You were my best four years."
Article continues below advertisement
Recalling how she felt when blonde-haired Ronan finally succumbed to the cancer that most commonly affects children, Maya revealed that "losing a child is the worst thing that could happen to a family," but that hearing the words from her blog set to music "was kind of like reliving it again, but it's something I'll probably always relive."
The emotional tribute crescendos to the closing lyrics that represent Ronan's passing. "I remember the drive home when the blind hope turned to crying and screaming 'Why?'/Flowers pile up in the worst way/No one knows what to say about a beautiful boy who died/And it's about to be Halloween/You could be anything you wanted if you were still here."
The beautiful musical dedication came around when Taylor and Maya met last October after Conor Kennedy's current girlfriend invited the mourning mom to a concert as a special guest.
"She had been reading my blog for a while and heard that Ronan had passed away, and she was just devastated by it," said Thompson, who has been blown away by the success of the song.
"It's putting a face to childhood cancer that we didn't have before. Nobody wants to talk about childhood cancer. It's too sad," she explained. "But the sad thing is there are 46 kids diagnosed a day and seven of those kids will die a day.
Article continues below advertisement