Taylor Swift Breaks Down After Emotional Performance At Cancer Telethon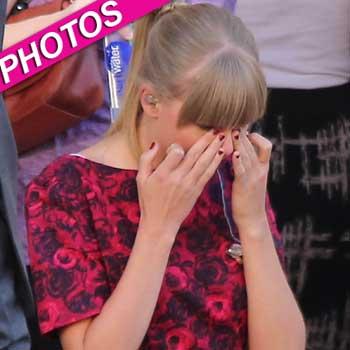 She was close to tears during her heartfelt performance at the Stand Up to Cancer Telethon but Taylor Swift couldn't contain her emotions after she left the Shrine Auditorium.
That's when the flood gates opened.
The star broke down in tears as she exited the event on Friday night where she debuted her new song Ronan, which was inspired by a a four-year-old cancer victim who lost his battle to the disease.
Article continues below advertisement
Holding on to her mother's hand, Swift was pictured wiping away her tears just moments after her moving performance.
The 22-year-old wrote the song after reading a blog post written by Ronan's mom, Maya Thompson, who has a co-writing credit on the song.
The scene was far different from the one created when Taylor, 22, and her 18-year-old boyfriend Conor Kennedy crashed a Kennedy cousin wedding.
"I personally went up to Ms. Swift, whose entrance distracted the entire event, politely introduced myself to her and asked her as nicely as I could to leave. It was like talking to a ghost," mother-of-the-bride Vicki Gifford Kennedy told The Boston Herald. "She seemed to look right past me."