'Tanning Mom' Patricia Krentcil Explains Bizarre 'Drunken' Outing At NY Club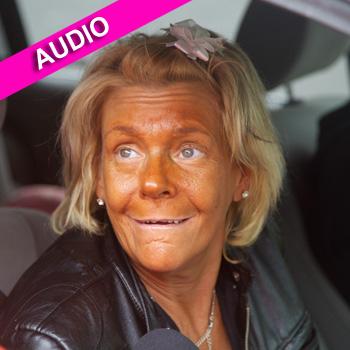 "Tanning Mom" Patricia Krentcil implied her drink was drugged during her disastrous appearance at a New York drag queen club last month, and we've got all the details for you right here on RadarOnline.com.
As we previously reported, the Nutley, New Jersey native was reportedly so intoxicated at the event -- a roast in her honor at Hell's Kitchen's XL Club -- that she couldn't speak properly or stand up, and even tried to attack a drag queen at one point.
Article continues below advertisement
Speaking with Zach Sang and The Gang, Krentcil said, "I think something was put in one of my -- I can't be positive, but I never felt so messed up, and that was not me at all. That's not me.
"I was … very embarrassed about the whole thing."
Krentcil admitted that she had a drink that evening, but didn't do it to excess. She said a plate in her head from an old injury has left her with preexisting conditions that impact her balance.
Hear the audio on RadarOnline.com
"My equilibrium is off -- people need to know that," said Krentcil, who was parodied on Saturday Night Live by Kristen Wiig. "When I trip, I fall over the place … I'm ditzy."
She said the event was not a particularly negative experience, but the media's coverage of it made it seem like more of a train wreck than it actually was.
"Of course they're gonna find something bad -- the press -- and not use the good part, cause that's the press," she groused. "They took two bad parts and they stick it in the paper, the news."
Article continues below advertisement