Lindsay Lohan Can Relate To ELizabeth Taylor 'On A Lot Of Levels'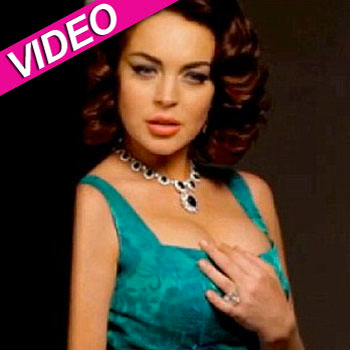 Lindsay Lohan is opening up about her hotly anticipated new flick, confessing, in a behind the scenes interview, that she can relate "on so many levels" to Elizabeth Taylor, the Hollywood legend she portrays.
The 26-year-old hell raiser stars as the late icon in a TV biopic focusing on Taylor's great love affair with actor Richard Burton.
The movie, Liz & Dick, is due to air on Lifetime in November but RadarOnline.com has obtained a sneak peek behind the scenes interview with Lohan.
Article continues below advertisement
Lindsay opens up about how she thinks her life parallels Taylor's and says: "I'm a huge Elizabeth Taylor fan, and I relate to her on a lot of levels — living in the public eye, dealing with the stress of what other people say, whether it's true or not."
Lindsay also talks about how just like Taylor, who died last March at age 79 and who had been married eight times, she understands what it is like to live life constantly in the spotlight.
She says: "I personally understand Liz, because you're living your life for everyone to see, and people are growing with you."
The video also shows clips from the movie and Lindsay goes on to say: "You get to a point where you become numb to it, and you just live your life the way you feel you need to live it."
Liz & Dick chronicles the stormy but passionate relationship between Taylor and Burton, who were married and divorced twice.
MORE ON:
hollywood happenings
Article continues below advertisement