Lindsay Lohan In New Liz & Dick Promo Pics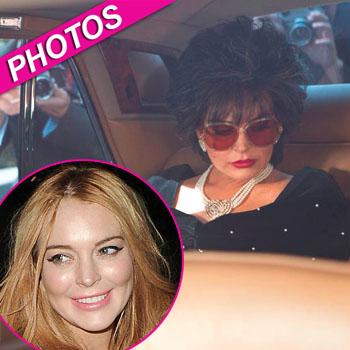 Lindsay Lohan plays Elizabeth Taylor in Lifetime's upcoming biopic Liz & Dick, and RadarOnline.com has the latest promo photos.
In these pictures from the made-for-TV film, Lindsay channels Liz's look in the 1963 classic Cleopatra, as well as the big, dark 'do Liz famously sported in the 80s and 90s.
As RadarOnline.com previously reported, while filming the biopic that documents Liz's relationship with her one-time husband Richard Burton (who died in 1984), Lindsay reportedly trashed the trailer that once belonged to the legendary Liz.
Article continues below advertisement
In the photos, there are cigarette burns on fabric, furniture and on a picture of Elizabeth Taylor, and dishes and a mirror were broken, and the trailer's owner Angel Alger claims that a valuable antique rocking chair that Elizabeth sat in is missing.
"I did not get to enjoy using the lavish French phone that she used or even her personal hair brush that probably still had some of her hair in it," Alger lamented about her destroyed property.
She believes that Lindsay is the one who trashed her beloved trailer, saying that a studio employee told her that the 26-year-old and her friends had access to it each night after filming.
"Only a psychotic and rebellious person or people would steal irreplaceable museum belongings and leave it in this vandalized condition," Alger said.
In related news, the New York Daily News reported Thursday that LiLo is planning to move from Los Angeles to New York's Tribeca neighborhood.