Dina Lohan Denies She Was Drunk On Dr. Phil, 'I Was Just Extremely Upset!'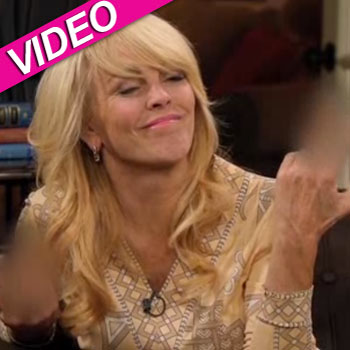 Article continues below advertisement
"I was absolutely not under, intoxicated, or on any kind of medication. I was extremely upset," Lohan told Entertainment Tonight in an interview that airs on Thursday.
As RadarOnline.com previously reported, Dr. Phil McGraw told the Mean Girls star's wayward mom: "You spent more time talking about cameras, are we rolling…that's my business...we're not here about my business, we're here about your life," as he became increasingly frustrated with her erratic behavior.
While Dina took the opportunity to deny the drunk accusations to ET, what she really appeared on the show for was to talk about another train wreck, former teen star, Amanda Bynes.
"You know, I'm a mother and I feel that that's for her mother to speak about, and not me, because people have spoken for my child and myself, so I really feel that's for her parents to discuss and Amanda herself," Dina told the entertainment show.
Article continues below advertisement
When asked for general advice for parents since she's been through similar situations with Lindsay's legal nightmares and rehab stints, Dina advised somewhat vaguely: "Just be around… It's hard when your daughter's not, you know, over 18, and you want to let them go … and they want to, you know, feel like they're in control of themselves.
"So it's a very strategic place for a parent to be, but she'll be OK."
As RadarOnline.com previously reported, former Nickelodeon teen star Bynes was arrested for a DUI last April and has subsequently picked up four more misdemeanor criminal charges. She was pulled over and cited once again for driving on a suspended license in Burbank last weekend, which resulted in her car being impounded.
Dina's words of wisdom are an ironic move for the woman whose daughter has had more court appearances than film roles in recent years.
Article continues below advertisement
Even Lindsay's estranged father, Michael, is begging his ex-wife to seek help for her own problems rather than trying to solve other people's.
"Everyone has already seen the real you on Dr. Phil and with Matt Lauer. Instead of a talk show, go to rehab!" he blasted at Dina in an exclusive interview with RadarOnline.com.
"Sober up and learn to stop using our kids as pawns like you just did to Lindsay again after calling out for me after her arrest! Fix YOUR soul!"