Exclusive
Dr. Phil Was 'Very Unprofessional' With Dina Lohan, She Wants To Do Interview With Dr. Drew, Claims Pal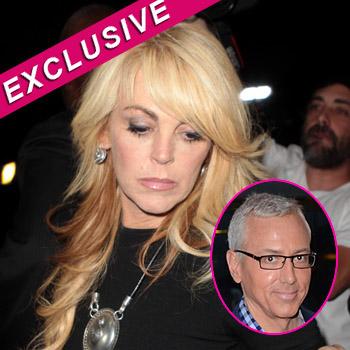 By Jen Heger - RadarOnline.com Assistant Managing Editor
In the wake of Dina Lohan's train wreck interview with Dr. Phil McGraw, her friend, Danish celebrity promoter Claus Hjelmbak, says Dina was treated "very unprofessionally" by the tough-talking Texan and that she wants to do another interview - only this time with Dr. Drew Pinsky, RadarOnline.com is exclusively reporting.
"Dina is a very loving mother to her four children and a great friend," Hjelmbak tells RadarOnline.com. "I feel that she was treated very unprofessionally by Dr. Phil and that he bullied her during the interview. She agreed to do the interview with Dr. Phil because she wanted to talk about some very difficult things she had been through in her life and thought she would be doing so in a safe and therapeutic environment. He was mean to her thoughout and I don't think she was under the influence of any substances or alcohol at the time. I know Dina very well and I could tell that she was just extremely nervous."
Article continues below advertisement
As previously reported, Dina's bizarre interview was such a disaster that instead of answering the host's questions she simply flipped him the bird at one point.
"Can I ask you some questions and you answer them, not in television speak, but just answer them honestly?" Dr. Phil barked at Dina, who fidgeted and giggled during parts of the televised, hour-long interview this past Monday.
"You spent more time talking about cameras, are we rolling…that's my business...we're not here about my business, we're here about your life.
MORE ON:
Celebrity Justice
"What you have done is distinguished yourself in the negative, you have come on here and been phony and inauthentic," Dr. Phil said at which point Dina put up both middle fingers to the cameras and said: "Sorry."
Despite the bad experience though Dina is keen to do another televised interview, but this time with Dr. Drew.
"I'm sure that Dr. Drew would treat Dina with compassion and be respectful towards her, unlike Dr. Phil who absolutely blindsided her with his aggressive demeanor," Claus says. "Dr. Phil just butchered her and he is extremely phony. Dina has a lot to say, but clearly, she never should have done Dr. Phil's show. Dr. Drew would be the ideal choice for Dina's next interview and I know that she wants to do his show on HLN."