Exclusive
Steven Powell's Journals Detail Obsession With Missing Daughter-In-Law, 'I Can Hardly Control Myself'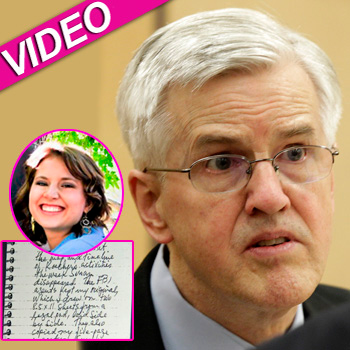 Article continues below advertisement
As RadarOnline.com previously reported, Josh Powell brutally attacked his and Susan's two sons, 5-year-old Braden and 7-year-old Charlie, with a hatchet before torching his home in Washington state on February 5. All three died of smoke inhalation. He had long been suspected of his wife's murder but never charged.
Throughout the 17 spiral notebooks released by the Pierce County Sheriff's Department in Washington that were written over more than a decade, Steven Powell allegedly wrote of sexual fantasies and expressions of love for Susan as early as January 2003, reported NBCNews.com.
Currently serving a 2 1/2 year sentence for 14 counts of voyeurism filming two young girls, age 9 and 8, who lived next door to him in 2006, the grandfather took his fascination with Susan to a physical level by secretly recording her and watching the videos while masturbating, according to the journals.
In some entries, he admitted to "looking at her naked body under the bathroom door (using a mirror)," and feeling sexual urges that were "sick and sociopathic."
Article continues below advertisement
The perverse books also include photographs of the mother-of-two stuck into the pages, along with close-ups of her body and details of her belongings that Steven secretly stole from her and stashed as keepsakes, such as underwear and the discarded strips she used to wax her legs.
According to the Salt Lake City Tribune, Powell eventually told Susan that he was in love with her in December 2003, and the confession freaked her out so much that she refused to speak with him for at least five months and apparently asked her husband to break off contact with his father.
"I am now going crazy with desire for her, but I do not regret any of it," he wrote after the rebuttal.
"He repulsed her. One of the primary reasons she wanted to move to Utah was to get away from him. She would be sick if she knew what he was thinking," Kirk Graves, who is married to Steven's daughter, Jennifer Powell Graves, told RadarOnline.com in an exclusive interview, adding that he too was repulsed by Steven.
Article continues below advertisement
After Josh and Susan took their kids from Utah and moved to Washington, Steven's scribblings get angrier as he blames her for making him fall in love with her and then leaving, and even made scathing comments about his son's family.
"Theirs is truly a marriage made in hell" he claimed, adding: "It's hard to believe that two people could be so nasty to each other."
While many believe that Steven had a hand in his daughter-in-law's murder - whom Josh claims went missing while he was on a last minute camping trip with their young sons, in the middle of freezing cold winter in West Valley City, Utah – the journals claim she ran off with another man and he was heartbroken that he thought he would never see her again.
"I would be devastated were I to find out Susan was dead from any cause," he wrote. "I am still so in love with her; I can barely function."
Police records show he called in sick for work for two days after she disappeared in December 2009, and Steven's despair led him to lose 20 pounds and his reason for living, he claimed.
Visit NBCNews.com for breaking news, world news, and news about the economy
RELATED STORIES: