5 Stars Who Lost Baby Weight Fast & 5 Who Struggled To Drop The Pounds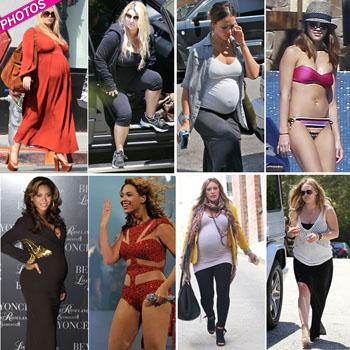 Trainer-to-the-stars Tracy Anderson may have no problems dropping baby weight in a jiffy, but not every Hollywood celebrity is back in their bikini months after giving birth!
From big screen bombshells to sexy singers, Hollywood stars are always under pressure to get their pre-preggers bodies back as soon as possible – and many go to extremes to lose the baby weight. RadarOnline.com has photos of 5 stars who lost baby weight fast and 5 who struggled to drop the pounds.
Article continues below advertisement
Victoria Beckham is the biggest loser when it comes to baby weight. The fierce fashionista has never had a problem getting back into her designer duds after giving birth. Just six months after having Harper, Posh was already modeling lingerie in fashion magazines.
Slammed by her country for not immediately losing her baby weight like Beckham, Aishwarya Rai Bachman, dubbed "the most beautiful woman in the world" gained international attention. Just a mere 6 months after giving birth to a daughter, the Bollywood babe suffered major backlash from her native country fans for having a "double chin."
MORE ON:
Bryce Dallas Howard
A year after giving birth, Baywatch beauty Nicole Eggert has been struggling to get back into her sexy red swimsuit. The 40-year-old actress and Celebrity Fit Club alum has been spotted working out with a trainer all over Los Angeles in recent months.
Beyonce had no problem looking Bootylicious months after giving birth to Blue Ivy Carter. The superstar was back on the stage donning sexy, barely-there costumes months after welcoming her first child, claiming that she dropped 60 pounds from the treadmill and eating lettuce.