Hilary Duff Shows Off Post Baby Bikini Body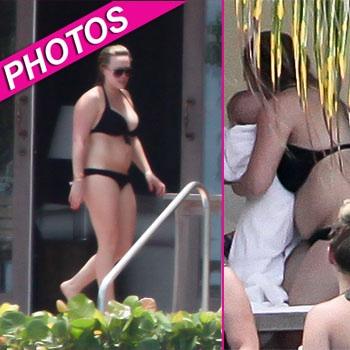 Hilary Duff is enjoying every minute of being a first time mom since giving birth in March.
The former Disney star proudly showed off her adorable son, Luca, on a family vacation in Mexico recently, along with her post baby bikini body, and RadarOnline.com has the photos.
Duff looked happy and healthy as she frolicked in the sun in a black two piece with her baby, mom and sister Haylie.
Article continues below advertisement
The new mother has said that she isn't too concerned about the weight she gained during her pregnancy -- in fact, she says she had fun packing on the pounds!
Hilary sat down and talked to Bethenny Frankel recently about her extra cush.
"My whole life I've worked out and exercised and been in the public eye and always kind of watched what I ate. And this was like a free pass and it was a blast," she said.
She did say however, things would be different if she were to have another baby. "I would try not to gain as much weight...But I had fun the first time. I wouldn't go back and change it because I had a lot of fun."
Hilary Duff Gives Birth: Luca Cruz Comrie
The 24-year-old also admitted she's not in a hurry to drop the weight.
"I am working out and I'm trying and I'm trying not to obsess. Everyone wants their body back, but all in time. It took nine months to get there and so hopefully, it won't take that long to get it off, but I'm doing it slowly," she said.