Chip Off The Old Block! Ricky Martin Shows Off His Adorable Twins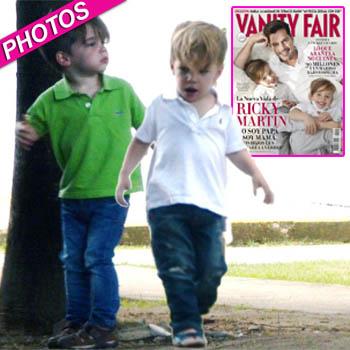 Ricky Martin is proudly showing off his adorable twins to the world, posing for a family cover shoot for Spanish Vanity Fair, and RadarOnline.com has the gorgeous photo and interview details.
As RadarOnline.com previously reported, the 40-year-old singer became a parent to the two boys, Matteo and Valentino, with the help of a surrogate mother in 2008.
On the cover, a handsome, grinning Ricky is dressed in a white shirt, while his mini-me three-year-olds are dressed in matching shirts and gray Armani pants.
Article continues below advertisement
The performer, who publicly came out as gay in 2010, opens up to the magazine about the surrogacy process, his sexuality and his relationship with his publicity shy boyfriend, Carlos Gonzalez Abella.
"I did not rent a womb," he insists of the boys' birth. "That expression is used by fundamentalists. They loaned me an abdomen. I would give my life to the woman who helped me bring my sons into this world."
Martin also spoke about his past liaisons with the opposite sex.
"I've slept with women and I've fallen in love with them and I've felt wonderful things," he says. "There was love, passion. I don't regret anything, any of the relationships I've lived, they've taught me a lot, both men and women equally."
For Ricky Martin's full interview, check out Vanity Fair's website.
RELATED STORIES:
Victoria's Secret Angel Adriana Lima Pregnant With Second Child