Ricky Martin Cried 'Like A Little Baby' After Revealing He's Gay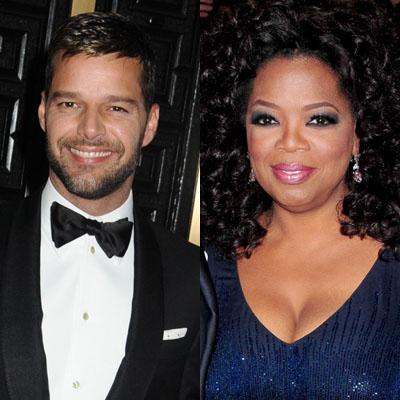 Ricky Martin, in an interview airing Tuesday with Oprah Winfrey, said that upon coming out of the closet earlier this year, he "just started crying like a little baby," RadarOnline.com has learned.
The 38-year-old She Bangs singer recalled his inner turmoil after he posted a statement to his Web site this past March proclaiming himself "a fortunate homosexual man," following years of media speculation about his sexuality.
Article continues below advertisement
"I was in my studio alone for a minute," Martin said. "My assistant walked in and I just started crying like a little baby. I started crying. I couldn't take it anymore... it was too painful."
Martin, who has twin 2-year-old sons, Valentino and Matteo, via surrogate, said "the most important thing was his children" when factoring in the decision to go public with the personal info.
Said the Livin' La Vida Loca singer: "When I was holding them in my arms I was like, 'What, am I gonna teach them how to lie?' Whoa, that is my blessing right there. Then, when I was holding my children I said, 'Okay, it's time to tell the world.'"
MORE ON:
The Oprah Winfrey Show
The teary interview comes a decade after an awkward exchange Martin had with broadcasting icon Barbara Walters at the height of his fame, in which he refused to admit he was gay. Walters this year said her line of questioning during that chat was "inappropriate."
VIDEO: Ricky Martin & Other Stars Unite For Anti-Gay Bullying PSA
Martin's book, Me, hits stores Tuesday.
RELATED STORIES: