VIDEO: Ricky Martin & Other Stars Unite For Anti-Gay Bullying PSA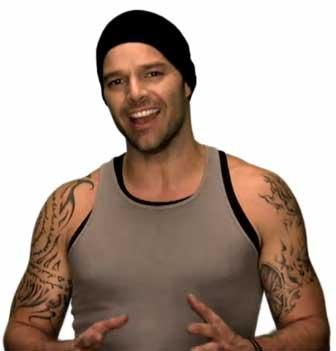 A new PSA for Cyndi Lauper's Give a Damn Campaign debuted Monday night, in hopes of eliminating instances of anti-gay bullying in the wake of incidents such as last week's suicide by a Rutgers college freshman after classmates outed him.
Watch the video on RadarOnline.com
Elton John, Idina Menzel, Rachael Harris, Wanda Sykes and Ricky Martin -- in one of his first appearances since coming out earlier this year -- all are featured in the clip, which was shown on Monday's Larry King Live.
Article continues below advertisement
In it, they recite jarring stats pointing to the epidemic of anti-gay bullying, such as the 7,783 incidents of hate crimes that were reported to the FBI just two years ago (the true number is actually believed to be much higher , since many incidents go unreported ).
"We as parents, as people, as a nation need to stand up and say enough is enough. We will not tolerate hate any longer," Lauper said in a news release. "Hate is learned and we need to teach our children that being different is okay. The best way we can do that is to lead by example and treat others with dignity and respect.