Bollywood Actress Slammed For Not Losing Baby Weight 6 Months After Giving Birth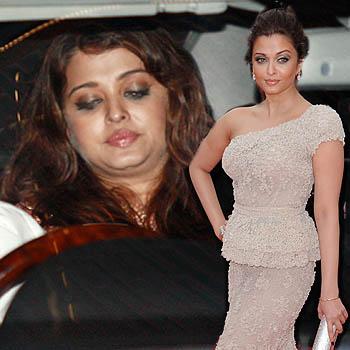 Not everyone can lose baby weight overnight like Victoria Beckham!
Bollywood actress Aishwarya Rai Bachchan, who Julia Roberts dubbed "the most beautiful woman in the world," is being slammed by fans in her native India for not dropping all the weight that she gained during her first pregnancy, and RadarOnline.com has the shocking details.
The 38-year-old stunner, who gave birth to a baby girl in November 2011, was photographed on April 28 showing off a fuller face, spawning fans in her homeland to revolt against their beloved actress, calling the photos "shocking" and pointing out her "double chin."
Article continues below advertisement
In one video posted on YouTube dubbed 'Aishwarya Rai's Shocking Weight Gain,' the former Miss World's weight gain is chronicled and even features sound bites of an elephant in the background.
"Aishwarya Rai Bachan post her pregnancy seems to be looking rather plump instead of losing some of her flab after the baby's delivery," states the description of the video. "The Bachchan bahu seems to be taking motherhood very seriously and seems to have shockingly put on at least five to six kilos."
"She needs to learn from people like Victoria Beckham who are back to size zero weeks after their delivery," a comment on one of the videos reads.
"She is a Bollywood actress and being a part of showbiz it is her duty to look good and fit. Till now she has been praised for her beauty, so it is only fair that she should also be criticized if she is not able to live up to it," another commenter states.
Rai will be hitting the Cannes Film Festival with her 6-month-old, according to her rep.
RELATED STORIES: