Australian Swimmer Denies Having Affair With Kobe Bryant, 'We've Never Hooked Up'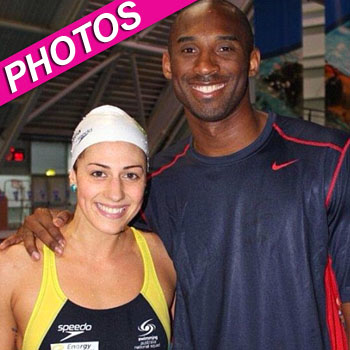 Kobe Bryant has been accused of inappropriate behavior while in Europe for the Olympics and his close relationship with Australian Olympic gold medalist Stephanie Rice has certainly raised some eyebrows.
But the 24-year-old swimmer has taken to Twitter to deny that she is having an affair with the married basketball star whose wife Vanessa is also in London with their two daughters.
"FYI yes Kobe and I are friends, but no we are not together and never have been," she wrote, shooting down the rumors. "Can't guys and girls be just friends? He's an amazing athlete and I've enjoyed getting to know him and many other great athletes in my Olympic journey."
Article continues below advertisement
Rice also posted a picture of her cozying up to the 33-year-old athlete whose marriage has been teetering on the rocks for some time.
"First picky with a 'star' going to be hard to beat… Kobe," Rice gushed as it was revealed they also swapped autographed souvenirs. She got a pair of sneakers while he got a swimming cap.
Kobe and Stephanie were seen sitting together earlier this week to watch a cycling race and she turned up in a skimpy leather mini skirt to watch Team USA beat Australia in the basketball quarter finals.
Rice's fellow country woman Elizabeth Cambage wrote a scathing tweet saying she was disgusted at how Kobe was being swamped by female admirers despite his marital status.
"I love how Kobe has his wife with him at the Olympics, yet still surrounded by groupies!!!" the basketballer posted. "Some women need to get a grip, ASAP!"
Australian swimmer Craig Stevens told local radio show Triple M that there was definitely "something going on" between Bryant and Rice who had apparently met at the Beijing Olympics fouryears earlier.
Article continues below advertisement
"I was on the last Olympic team and Kobe was hanging with us a fair bit at the different parties and whatnot," Stevens said. "I remember Rice telling the story of how he put it to her… that he had the family coming the next day but he had that night free."
Stevens has since backpedalled telling The Daily Telegraph that he "felt sick" about what he said and "did not realize Kobe was still married."
The Lakers' long suffering wife is said to be still reeling after pictures of her husband of 11 years came to light showing him shirtless and hanging out with a group of women in a Spanish nightclub before the Games.
The 30-year-old filed for divorce from Kobe eight months ago after rumors he cheated on her on numerous occasions and he signed over the deeds to their three lavish homes – but Vanessa seems to be giving their relationship another shot as the divorce is on ice.