Sorry, No More Room! Was Ann Curry Banned From TODAY Bus?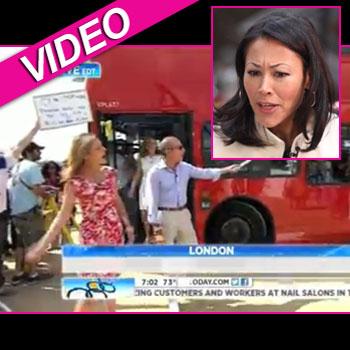 Poor Ann Curry.
One day after Curry made an incredibly awkward return to the weekday edition of TODAY for the first time since her firing in late June, her role was noticeably toned down on NBC's popular morning show on Friday.
In case you missed it, TODAY opened Friday with its all-star news team excitedly exiting a double-decker bus in London. One-by-one, the team exited -- new co-host Savannah Guthrie, Matt Lauer, news reader Natalie Morales, Al Roker -- heck, they even let controversial contributor Ryan Seacrest on the bus! We kept waiting to see Ann, but to no avail. When she did appear on the program -- 17 minutes after it started -- it was only on tape, for a short interview with Olympic organizer Sebastian Coe.
Article continues below advertisement
Watch the video on RadarOnline.com
As RadarOnline.com previously reported, Curry came face-to-face with Lauer on Thursday's TODAY for the first time since her teary-eyed goodbye on June 28. Sources have said Lauer -- considered TODAY's golden boy -- was behind her firing after the show started to slide in the ratings.
In an incredibly awkward exchange on live television that could not have pleased network brass, a clearly uncomfortable Curry sat next to Lauer while she introduced a story on a still photographer covering the Olympics.
Curry's chit-chat with her former co-host seemed polite, yet cold. Lauer said "nice to see you" while introducing her and "good to see you" at the end, but Curry returned neither sentiment.
Since her ouster, Curry has appeared on only the weekend edition of TODAY, where she reported live from Aurora, Colorado after the movie theater shooting there. (Ironically, her replacement, Savannah Guthrie, co-anchored from TODAY's studios at 30 Rockefeller Plaza.)
Article continues below advertisement
RadarOnline.com was first to report this past Monday that Curry would be traveling to London to participate in TODAY's coverage of the Olympics this week, amidst the continued fallout over her firing.
Despite her apparent diminished role on Friday's TODAY, Curry is expected to appear during NBC's coverage of the closing ceremonies on Sunday.
In wake of her departure, the once dominant TODAY has fallen in the ratings -- often trailing behind ABC's Good Morning America, although TODAY has gotten an expected bump due to the Olympics.