Kobe Bryant Has A Better Sense Of Who He Is After Rape Case, 'It Challenges You'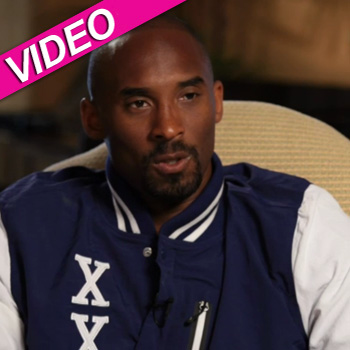 By Debbie Emery - RadarOnline.com Reporter
NBA star Kobe Bryant has been understandably closed-lipped since he was charged with the sexual assault of a hotel employee in 2003, but the Los Angeles Lakers player is finally speaking out about the scandal that tarnished his image and drove away both fans and endorsements.
"It challenges who you are as a person, not only individually but as a family. It was extremely difficult and you kind of had to do some soul searching because you are fighting numerous battles at the same time, and you're just trying to figure your way through all of this mess," Bryant revealed in an interview on In Depth With Graham Bensinger.
Article continues below advertisement
Bryant, 33, admitted to having sexual relations with 19-year-old Eagle, Colorado, hotel worker Katelyn Faber but denied assault. The case was later dropped by prosecutors after Faber refused to testify in the trial and a separate civil lawsuit was eventually settled out of court for an undisclosed amount.
"The only thing you can do is put one foot in front of the other, and there's nothing else you can do. There's times where it just seems like days are just endless, like this is never going to end," he told Bensinger in the candid interview.
"This feeling, this dark time is just never going to be over. Once you go through something like that, you can't help but be different. You can't help but have a better sense of who you are."
The five time NBA championship winner went on to reveal that he got support from am unexpected source, NFL linebacker Ray Lewis, who faced charges in connection with a January 2000 murder that were later dismissed.
Article continues below advertisement
"Ray and I have had conversations about that, he is a good friend of mine and we've had that type of conversation. Other players can't relate to that. That's real pressure, that's life pressure," explained Bryant. "We talked about his time and how he managed to get out of it."
Used to being in complete control on the basketball court, Kobe said he had to give in to his helplessness during the controversial case. "You have to give it up. You have to release yourself and let things be," he revealed.
MORE ON:
Los Angeles Lakers
"It helps your maturity a lot when you try not to control a situation. This is not a basketball game where I have control of the outcome, you just have to let it go. I think as a person it just teaches you how to let go, how to trust, and not try to control anything."
When asked how he still managed to play basketball so well during that time, "Because I am so stubborn. I'm not going to stop playing," Kobe said. "I'm not just because you guys think I should stop playing, just because you guys think that I won't perform as well. I'm going to show you. Truthfully, it was stress release for me.
Article continues below advertisement